Hell on Wheels 3.5: The Glove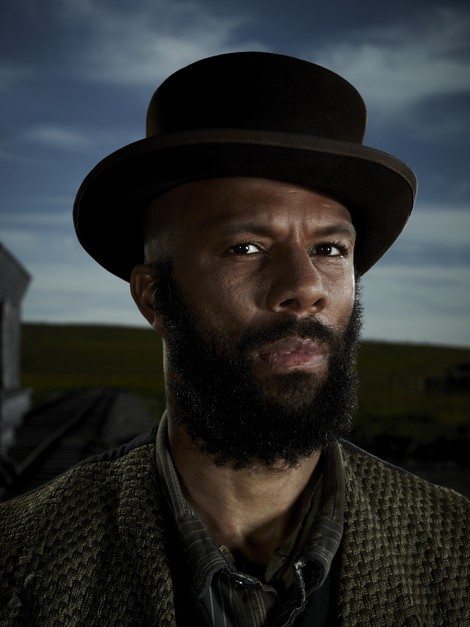 Well, my favorite scene in tonight's altogether excellent Hell on Wheels 3.5 is when Elam feeds his baby girl - just recovered from the kidnappers - with a glove full of doe's milk, slain by Cullen for that purpose.  The scene almost had a biblical splendor, even though it was life in the wild, being civilized, a big ocean away in America.
The episode was full of powerful scenes.   Eva in the water, being consoled by Ruth, who had a story of her own ... Psalms trying to beat the truth out of the New York Irish copper who's in Hell on Wheels to get the baby that he's sure is his slain brother's daughter, but Psalms does not kill him in the end ... Elam, again, telling Cullen - just this once - that he knows the baby is white, not (genetically) his flesh and blood, but he's going to be her father anyway ...  Scenes like these are really lifting this season of Hell on Wheels into a major contender for one of the best series now on television.

And Durant is shaping up as an even better villain than in the first two seasons.  He was behind the kidnapping - that was pretty easy to guess, because he'd do anything to slow Cullen's progress with the railroad.  And Durant's indecent bet on Cullen's decency paid off.  Cullen was not about to let Elam ride off on his own into Indian territory in search of his daughter.

Meanwhile, the Swede who is actually Norwegian is slowly building up some sort of sicko theme.  At this point, I'm thinking that the Swede will actually be doing some good, even loved by adopted family, when Cullen runs into him, which bound to happen by the end of this season.  And then Cullen will be faced with his ultimate trial by fire - kill the Swede, in cold bold, for what the Swede did to Lily last season?  This will indeed put Cullen's goodness to the test.

But, first, Cullen is due to be put on some kind of trial for one of the killings his already did, as Durant continues his campaign to get Cullen off of his railroad.