Helena Bonham Carter To Be Honored By Queen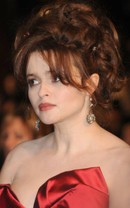 Oscar-nominated actress Helena Bonham Carter has been awarded a Commander of the Order of the British Empire medal (CBE) in Queen Elizabeth II's New Year's Honors list.

The Brit, who portrayed the Queen's mother in The King's Speech, has been recognized for her career achievements and will be presented with the accolade during a ceremony at Buckingham Palace in London this year.

TV mogul Peter Bazalgette, the producer credited with turning reality show Big Brother into an international phenomenon, is to receive a knighthood, while author Penelope Lively, who won the Booker Prize for 1987's "Moon Tiger," will be made a Dame, according to Reuters.

Veteran British comedian Ronnie Corbett will be feted with a CBE, while golfers Rory McIlroy and Darren Clarke are to pick up Member of the British Empire (MBE) and Officer of the British Empire (OBE), respectively.

The annual New Year's Honors list acknowledges the public service of British and Commonwealth citizens in a variety of fields including entertainment, industry and government.