Helen Mirren 'Ravished' By Comic-Con Fans, Pays Tribute To Harvey Pekar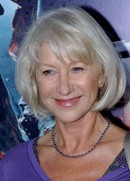 San Diego Comic Con attracts the biggest stars, especially when they appear in movies based on comic book characters. One star the fans in the convention's Hall H probably never expected to see was Helen Mirren. The star of The Queen lost her Comic-Con virginity when she appeared on a panel for her upcoming film, Red.
"I was just ravished," Mirren joked with the press afterwards. "I've had foreplay beforehand and now I got ravished."
Dame Helen is used to a lot of fanfare for her work, but a room full of 7000 moviegoers was a new thrill to her. "That's obviously what it's all about isn't it? I just went into the big room to see them. That's what it's all about. We obviously travel in a bubble a lot of the time. There is where you actually get to have a really face to face experience with fans. The great thing about Americans is they're permitted to be enthusiastic about stuff on a grand scale. For me as a Brit, it's really exciting and endearing. It's everything you love about America, that commitment and excitement and kind of an innocence about it. I liked to get down and dirty with fans and people."
Mirren even sported comic related wardrobe. She wore a T-shirt in tribute of the late Harvey Pekar, author of American Splendor. She designed the shirt herself online and had it made for the convention.
"I'm wearing a t shirt in [tribute] to Harvey Pekar who I thought was a great, great artist. I thought it was all about comic book heroes and boys kind of stuff. He revealed the fact that a graphic novel could be as deep, complex, personal and psychological as any other work of art: novel, movie, painting, anything. So I think that this world, I think it's really exciting to see it burgeoning and expanding and changing as it goes into a real total art form. I think we're at a very exciting point in the whole era, the whole ether, the whole development of comic books. I'm fascinated to see where it's going to be in another 20 years."
Red is coming out this October.