Helen Mirren And Sienna Miller Donate Clothes To Children's Hospital Auction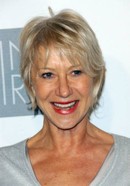 Helen Mirren, Daniel Craig and Sienna Miller are among the stars who have donated their clothes to an auction for a children's hospital in the U.K.

Beyonce, Nicole Richie and Girls Aloud star Nicola Roberts have also raided their closets for the annual Clothes Throw campaign, which raises money for Liverpool's Alder Hey Children's Hospital.

Roberts, who hails from Liverpool and is a keen fundraiser for the medical facility, is fronting the initiative and she's urging fans to support it any way they can.

She says, "I am really excited to be fronting the Clothes Throw 2011 campaign! I'm an avid supporter of Alder Hey Imagine Appeal. I visit Alder Hey and the patients there really touch my heart.

"There are three ways you can help with the Alder Hey Clothes Throw: donate clothes, hold your own Clothes Throw party or attend any of the official Clothes Throw events in (local shopping center) Liverpool ONE."

The three-day sale kicks off on October 25.