Heidi Montag's Miss Universe Performance (Photos & Video)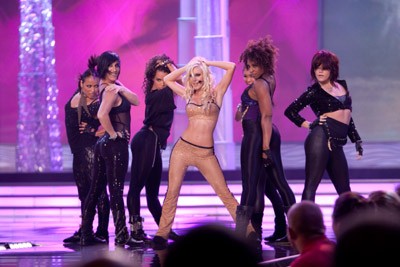 Heidi Montag
gave her first live performance at the
Miss Universe pageant
in the Bahamas at Atlantis Resort last night on NBC. The network blocked more than half of her performance as it introduced the 15 finalists. See photos and video after the jump...
Click here for pictures of Miss Universe 2009 Stefania Fernandez!
Heidi didn't demonstrate particularly amazing dancing skills and it appeared like she was lip syncing, but fans went wild over her show.
Heidi has been in the media a lot recently promoting her new Playboy issue. The magazine contains not only semi-nude photos of her but also an intimate look at her life with husband
Spencer Pratt
. Heidi confesses to her husband, who interviews her, that she experiences 20 to 30 orgasms a day. She says, "Before you, sex was just something that happened. Now it's something I look forward to every minute of the day."
Heidi recently confessed she wants another boob job because she feels her active lifestyle has prompted her breasts to shrink: "They're not as big as they used to be... I dance a lot, I ride around a lot, I work out a lot; I don't know what happened. They're the best things I've ever had, I'm so excited about them every day and I think I want bigger (breasts)."
Image © Miss Universe L.P., LLLP Richard D. Salyer