Heidi Klum Tempts Fate With Smashed Mirror Dress at Elton John's Oscar Party; Gives Jay Leno her Panties (Video)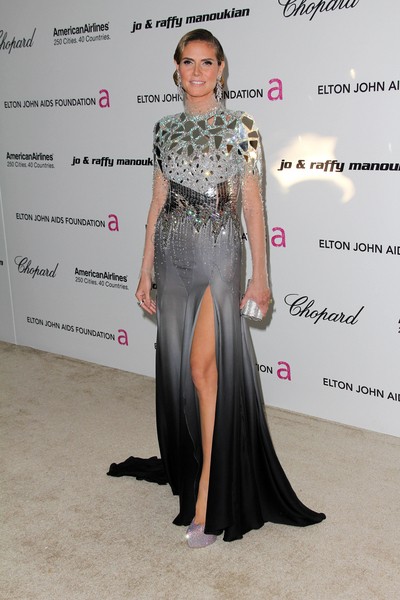 Heidi Klum wore an unusual mirrored dress to the 19th Annual Elton John AIDS Foundation Academy Awards viewing party on Sunday. Do you think she'll have seven years of bad luck?

During the event, Heidi was approached by Ross Matthews - aka Ross the Intern - from The Tonight Show with Jay Leno, who was looking for goodies from the event to bring back to Jay.

Leno didn't attend Elton's yearly Oscar party or get one of the fancy gift bags that were given out, so Ross went around asking the stars if they'd be willing to donate anything to the late night host.

After collecting a napkin with a red lipstick kiss from Hayden Panettiere a pair of shades from Jamie Foxx and various other items from such stars as Zachary Levi, Sharon Osbourne and Joel McHale; Ross encountered Tori Spelling, who considered giving her underwear to the cause.

"If I had a glass of wine I'd be so tempted to take my crotchless spanx off right now," she said.

But Heidi took that idea one step further and delivered the very panties she wore to the event to Jay's goody-bag.

She attended the event with her husband Seal, who recently launched a war of words on a Twitter user who branded him "ugly."

The singer was infuriated after reading a message declaring, "Seal is ugly. Sorry." The Brit was adamant he wasn't bothered by the remark, insisting he only lashed out to protect the "innocence" of the kids he shares with Heidi.

And Heidi recently told the March issue of Lucky magazine that her personal style icon is her mother. She said, "She inspires me and I inspire her so we end up looking the same in the end."


Check out the videos from Elton's party below (Heidi's in the second one)!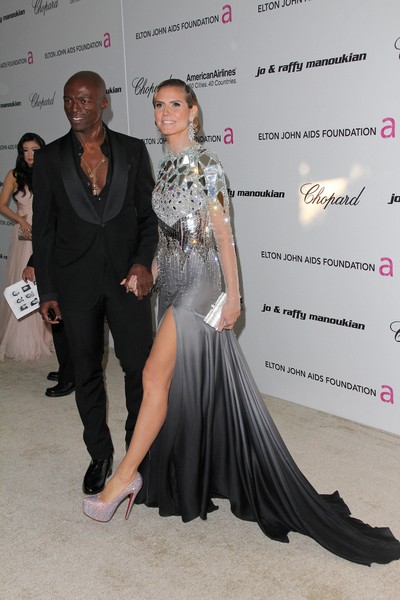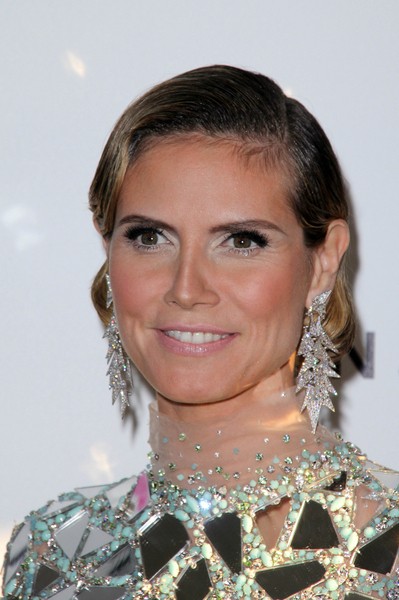 Click for more great Heidi Klum pictures: