Heidi Klum Takes A Tumble With Jimmy Fallon On 'The Tonight Show'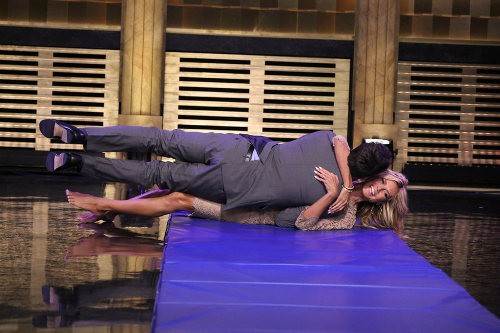 About a month ago Jimmy Fallon was showing us all "how he rolls" with Halle Berry. Now, the talk show host has recruited the beautiful Heidi Klum to take a tumble with him on The Tonight Show.
Jimmy wanted to chat with Klum about her role on America's Got Talent as a judge, but apparently they needed to limber up first. The German beauty, wearing a tight dress, stood over Jimmy as he laid down on a gym mat.
"I'm not gonna look! I'm not gonna peek! My eyes are closed! Trust me," Fallon reassured her while she stood over his head for the stunt. He said the same thing to Halle, of course, and for the second time he couldn't help but peek (or at least say he did).
Heidi responded, "Have a look! Peek! You know what it is? It's a gigantic mic pack with an antenna you know where!"
After she grabbed his ankles the two tried to form a human ball and roll, but they didn't make it as far as Jimmy did with Halle. Unsatisfied with the attempt, Heidi had another idea. Check it out in the video above.