Heidi Klum, Snoop Dogg & Daughtry To Play 'The Price Is Right'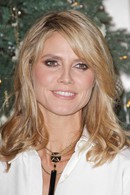 Supermodel Heidi Klum, rapper Snoop Dogg and rocker Chris Daughtry have been invited to "Come on down" for a new celebrity week of The Price is Right shows in 2012.

For the first time in the beloved gameshow's 40-year history, stars will compete for charity cash by guessing the prices of everyday and luxury items.

The celebrity shows will air next week with Snoop Dogg playing for cash to boost his Snoop Youth Football League on Monday.

Jenny McCarthy and Neil Patrick Harris have also shot secret appearances on the show, which is hosted by comedian Drew Carey.