Heidi Klum Shares Her Saucy Bedroom Secrets In The February Marie Claire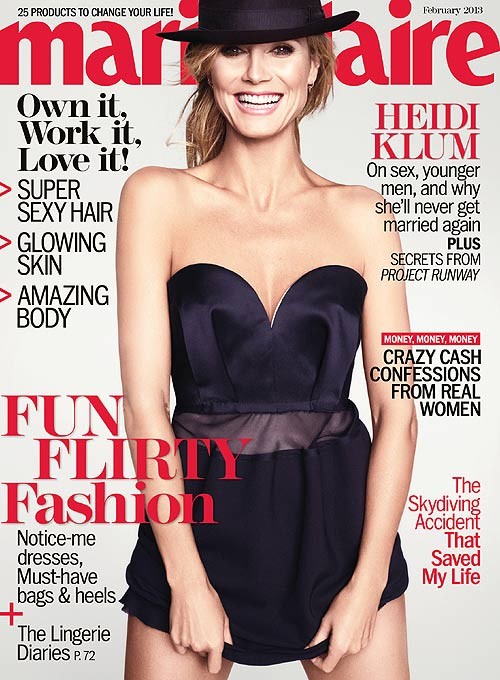 Heidi Klum gets sexy in a strapless black cocktail dress on the cover of the February issue of Marie Claire Magazine.

The 39-year-old star is gearing up for the launch of the 11th season of her hit show, Project Runway (Jan. 24), and she recently sat down and shared some of her personal secrets about what goes on behind closed doors in her house. She also revealed that her divorce from singer Seal was tough, but not a big deal.

"People say, 'Oh, God, how devastating to go through a divorce,'" she says. "Did I wish for this to happen to my family? No. But everyone is healthy; we're moving on with our lives. If someone got [very sick], God forbid, that would be a real problem. It's not what I wanted – it's not what anyone wanted – but it's not a real problem."

As far as that saucy stuff goes though...

"Some people are more experimental in bed and others are more boring. If you are wild and crazy, bring it on so the other person is well aware that you have little devil horns that come out every once in a while," she says. "It's good to make an effort to dress up sometimes, to do things outside of the norm."

Heidi says she doesn't plan on ever getting married again unless she happens to date someone for "15 or 20 years"; and as far as dating goes she doesn't see herself going the cougar route.

"I can understand why a woman finds a young man attractive," she says, "because the truth is that when men get older, their shape changes. Younger men train more, and when the clothes come off, it is nice to look at a sexy, ripped body.

"But I am realistic. I'm turning 40 next year; I don't think I could deal with waking up next to a 25-year-old."

So for those of you lads who are over 40 and no longer sexy and ripped, she's sayin' there's a chance.

The February issue of Marie Claire magazine hits newsstands on Tuesday, January 15th. Pick up a copy or check out Heidi's interview at MarieClaire.com.