Heidi Klum & Seal 'Are Either Madly In Love Or Having Crazy Fights'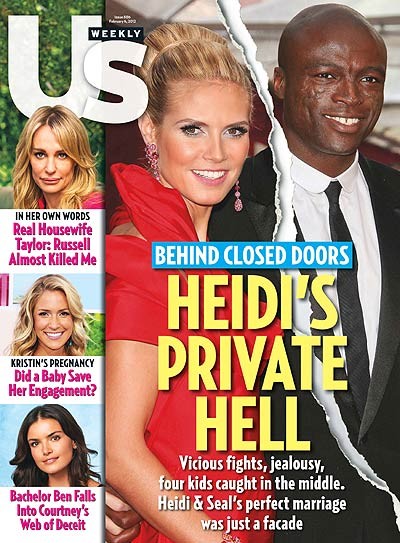 Recently separated A-list couple Heidi Klum and husband Seal have had their share of ups and downs during their seven-year marriage, all of which led to last week's shocking revelation that the famous couple are splitting up.

"They had a rough road lately," a source close to the couple tells Us Weekly. "They were so in love that they wanted to get married over and over again, but there were dark moments they didn't want to expose to the public."

Earlier this week it was reported that Seal's temper was one of the biggest factors in the separation, and word is he goes through severe mood swings and may even be a little jealous of Heidi's busy career.

But another source tells the magazine that that's how the couple has always been.

"They just have a very tempestuous love. They're either madly in love or having crazy fights," says the source.

Another of the factors in the couple's split may have something to do with their backgrounds - while Heidi's an "upbeat, happy person," says a friend; Seal "comes from a very troubled, sad background. It's what makes him an amazing artist, but a very difficult person to be married to."

Seal reportedly talked down to Heidi in public on numerous occasions, even yelling at her in one instance and asking her why she needs to "be in the spotlight all the time."

And when photographers requested he step aside when the couple attended events together - so they could shoot Heidi alone - it made him, well - a little Crazy.


Also in the new issue of Us Weekly:
-An exclusive interview with The Real Housewives of Beverly Hills' Taylor Armstrong about her late husband
-Katy Perry's New Pain: Russell Brand's Other Women
-Are ABC's Revenge stars Emily VanCamp and Josh Bowman an item?


Check out these stories and more in the new issue of Us Weekly, on newsstands everywhere now!