Heidi Klum Says Hawaiian Ocean Rescue Pics 'Look Worse Than It Really Was'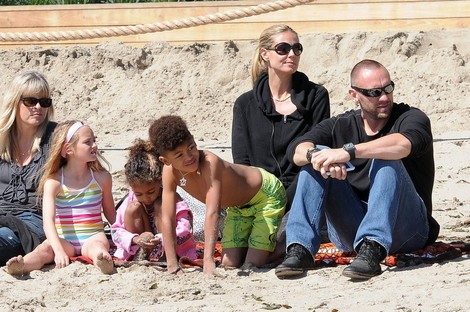 After helping to save her son and his two nannies from drowning off the coast of Hawaii on Sunday, Heidi Klum says photos from the rescue made the incident "look worse than it really was."
Over the weekend the "Project Runway" host and her bodyguard boyfriend Martin Kirsten spotted Henry, 7, struggling in a strong riptide in the Pacific Ocean, but the couple was able to safely pull the boy and his two minders from the water.
Photos from the Oahu rescue have since emerged, showing Klum, her son and nannies struggling against the waves, but the model claims the images were much more dramatic than the actual event.
She told People magazine:  "I did what any mother would do. Henry swam out of it (the riptide). I grabbed him at the shore. The photos look worse than it really was."

On Monday, Klum and her brood returned to Los Angeles, and the model has warned parents: "Never underestimate the power of the ocean."
The model also commented that bystanders didn't jump in to help. They just stood by and took photos.
We'll be seeing a lot more of Klum this summer. She was recently named the fourth judge of the new season of "America's Got Talent," joining Howie Mandel and Howard Stern as well as another newcomer, British singer Mel B. Stay tuned this June.