Heidi Klum Saves Son From Drowning During Hawaiian Vacation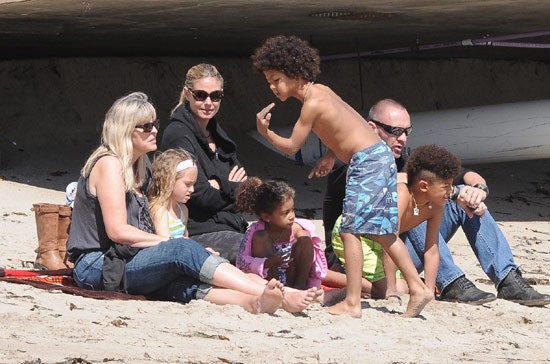 Heidi Klum acted as supermom in Hawaii on Easter Sunday after she rescued her son from drowning in the Pacific Ocean. Two nannies were swimming with seven-year-old Henry (Klum's son with estranged husband Seal) off the coast of Oahu when a strong riptide pushed the group farther into the deep water.
Klum and her bodyguard boyfriend Martin Kirsten witnessed the incident and jumped into action, safely rescuing the trio from the rushing ocean.
The former supermodel issued the following statement to UsMagazine.com: "We got pulled into the ocean by a big wave. Of course, as a mother, I was very scared for my child and everyone else in the water. Henry is a strong swimmer and was able to swim back to land. We were able to get everyone out safely."
Earlier in the day the family enjoyed an Easter egg hunt on the beach. The mother of four returned with her brood to Los Angeles early Tuesday morning.
Last month, Klum named the fourth judge of the upcoming season of "America's Got Talent," joining Howie Mandel and Howard Stern as well as another newcomer, British singer Mel B. The new season begins in June.