Heidi Klum Poses Nude For The May 2012 Issue Of Allure Magazine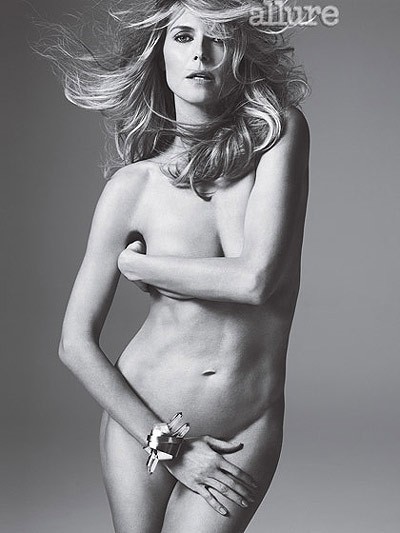 Project Runway host Heidi Klum has shed her clothes in a new photo shoot for Allure magazine's annual May 'Naked Truth' issue.

The supermodel, who recently filed for divorce from her husband of seven years, singer Seal, tells the magazine that she struggled in her early days of modeling.

"I was too curvy and too busty and a little too short, and I was a little bit self-conscious about it." she says.

"But I was by no means heavy," she adds. "I just — well, you have hips and boobs, and that's it. Haute couture, you don't really see girls with big boobs. And I always wanted first to be a model. So I had to say, 'OK, you're going to find other things to do in this industry, or it's maybe not my industry.'"

And if Heidi Klum being "too curvy and too busty" isn't shocking enough, she also reveals that she was once turned down by her Project Runway co-host Michael Kors.

"Thanks, but no thanks," he told her after seeing her modeling his designs when she was 20.

The May issue of Allure hits newsstands April 24.

Check out the behind-the-scenes video from Heidi's shoot below...