Heidi Klum Plays Mrs. Robinson And Seduces A Younger Guy In Carl's Jr.'s Latest Racy Burger Commercial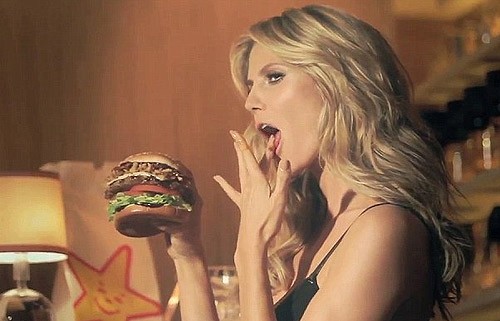 Heidi Klum gets racy in the latest commercial for hamburger chains Carl's Jr. and Hardees, which is sure to get temperatures rising later this month when it hits the airwaves.

The new ad is a take on classic Dustin Hoffman film The Graduate, and features Heidi wearing a revealing black nightgown and seducing a younger guy.

"What I like about this commercial is that it's a very, very famous scene from 'The Graduate'... and basically, I am playing Mrs. Robinson and I am seducing this cute little boy... with my burger." Heidi says.

"I shove the burger in his mouth in a sexy way," she adds.

Heidi promotes the new Jim Beam Bourbon Burger in the ad and reveals that she's perfect for the role.

"I do eat a lot of burgers," she says. "I do also eat a lot of fries."

Heidi joins a growing list of sexy ads for the chain, which in the past have starred such sexy women as The Hills star Audrina Patridge, Top Chef host Padma Lakshmi, and Sports Illustrated swimsuit models Kate Upton and Nina Agdal.

Check out the behind-the-scenes video from Heidi's shoot below...