Heidi Klum On Single Motherhood: 'I'm Happy'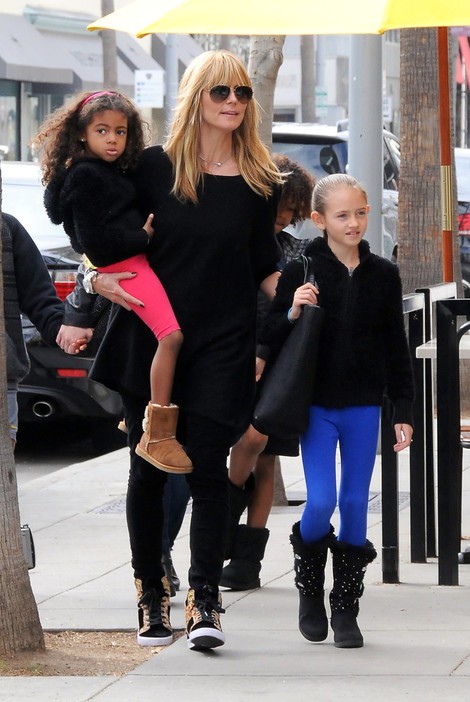 After divorcing from singer Seal in 2012, Heidi Klum has been a single mother to their four children. At a press event for the new season of America's Got Talent on NBC, Klum told reporters she was doing well.
"Everything is good," Klum said. "My kids are doing great, I'm happy."
In the Klum home, Heidi says the kids are focused on academics and family life. "So far, they don't really think about what they want to be when they grow up. Right now it's about going to school, having good grades, listening, helping at home. I like to teach them how to cook. I've been doing that for a few years. I think it's important, food, especially nowadays so they get very involved in that. They all have their own little things that they love to do, soccer, gymnastics, flag football. They're really into sports and I'm very much into that as well because I think sport is so important for kids."
Only one has suggested any ambitions towards show business, and Klum doesn't think she's serious. "Well, my daughter, she has been saying she wants to do a little dance troupe and she wants to go on [America's Got Talent], but they're different kind of children that do this. They're kids with a gift and they start usually around three years old, most of these kids, like dancers. My daughter's really into dancing but it's more of a hobby for her. These kids, they want to be dancers. That's their passion and some kids have that. My kids don't really have that that they want to be entertainers and be on stage. They don't. And it's weird because their mom and dad are both entertainers on stage. They don't have that and I'm fine with that. I'm not pushing them to go that way. There's many other jobs that they could do. I wouldn't be against it but since it's not a question I'm just leaving it alone. It's a tough business."
America's Got Talent returns May 27 on NBC.