Heidi Klum Is A Flayed Corpse For Halloween (See Pics & Transformation)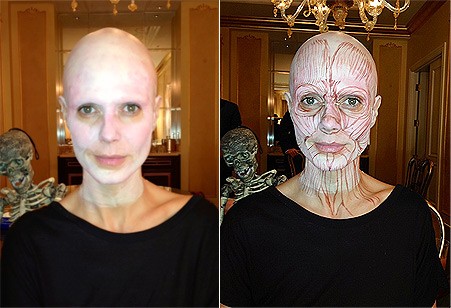 Heidi Klum got naked for Halloween this year. Like, really, really naked. Naked as in 'without-any-skin-naked.'

The (usually) sexy supermodel - known for her lavish yearly Halloween costumes - really knocked one out of the park with this year's outfit. In fact, it's so disturbing that we didn't want to freak anyone out with the pictures because the final result is equal parts art, scary and flat-out disturbing!

Heidi began with a few Twitter photos of her tranformation, from the skull-cap to cover her hair and through the airbrushing process that ultimately resulted in Heidi's head looking like the skin had been peeled off of it. The process took about three-and-a-half hours; and when it was finished she Tweeted a pic and message to Kim Kardashian, whose own costumes have also turned heads in recent years.

"@kimkardashian I think I look sexier than you tonight!! ;)" she wrote. (See Kim's Poison Ivy costume here!)

Heidi was then wheeled in to her 13th annual party - this year held at Tao Nightclub At The Venetian Resort and Casino in Las Vegas, Nevada - by two blood-spattered doctors. She was covered by a sheet on a gurney for her big entrance.

"It's kind of like a dead body with the first layer of skin ripped off," she tells People Magazine. "It's basically like me naked."

Martin Izquierdo, the designer who created the wings for the Victoria's Secret Angels created and hand-painted Heidi's bodysuit.

"You don't feel quite naked with it because it is so colorful," she says.

In recent years Heidi has dressed up as a black crow, a Transformers-style robot (complete with hydraulic boots!) and the Hindu Goddess Kali (that one pissed a few people off).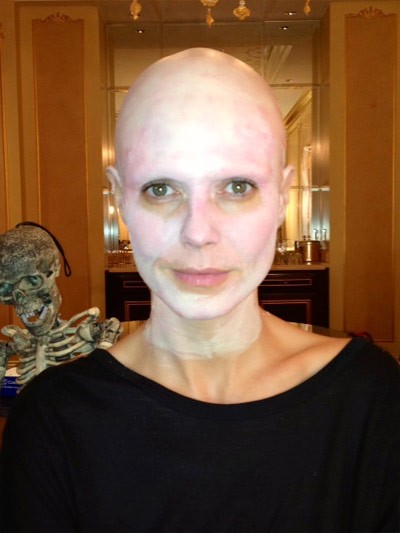 "Now the real work begins!