Heidi Klum Bares All And Wears Only Body Paint In New Astor Cosmetics Ad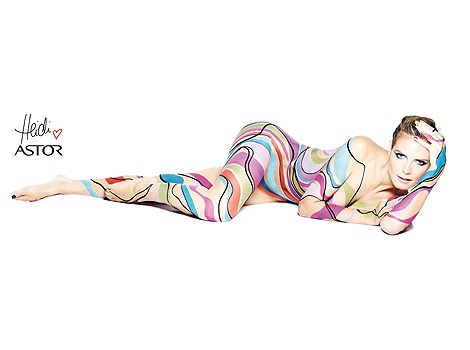 Supermodel Heidi Klum has shed her clothes again in a new ad campaign for European make-up brand Astor.

The "Project Runway" host is "celebrating colors" for the cosmetics maker's 60th anniversary, wearing nothing but a colorful display of body paint in the new ad, which she posted to her Twitter page on Tuesday.

"I had another fun photo shoot for Astor celebrating color!" She tweets.

And it's not the first time Heidi's gone au-naturel this month - the 38-year-old mother of four also takes it all off and flaunts her curves in the new May issue of Allure for their annual "Naked Truth" feature.

But it's not just her body she's been showing off - she's also been baring her soul.

She tells Allure, "I was too curvy and too busty and a little too short, and I was a little bit self-conscious about it."

But now she finds herself very comfortable in her own skin.

"I'm a nudist... I've never had a problem with my body," she says.

Check out Heidi's behind-the-scenes video for Astor below...