Heather Morris Kissed A Girl - And The Boys Liked It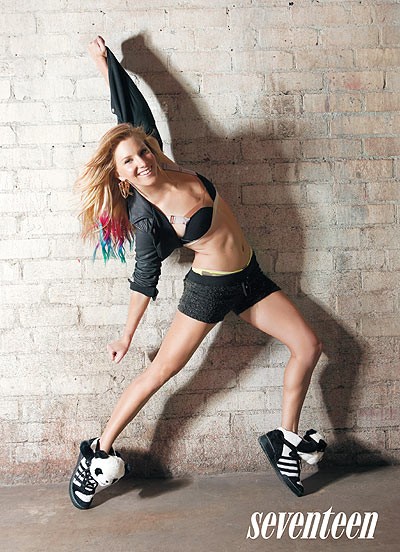 Glee star Heather Morris is the cover girl for the November issue of Seventeen magazine; and in the new issue she reveals that her character Brittany's relationship with Santana (played by the sexy Naya Rivera) wasn't her first experience with with the same sex.

While she wasn't ever in a straight-up relationship with anyone of the fairer sex before, she does admit that she has kissed a girl - and the boys liked it.

"Yeah. Mostly for guys' attention when I was in high school. One time I did it when I was curious with a friend, but she wasn't my best friend," she explains.

But she did have a boyfriend in high school, and although they were serious, Heather preferred to keep things on-again/off-again with the lucky guy.

"I had a serious boyfriend in high school, but we would take breaks in between," she says. "You shouldn't always have a boyfriend!"

The 24-year-old California native also reveals that she once had breast implants, but decided to have them removed because she was always in pain.

"Implants were something I thought I wanted when I was younger, and now I don't. It was hard being active with them, because my chest was always sore," she recently told Fitness magazine.


Check out more pics from Heather's Seventeen shoot at Seventeen.com or pick up a copy of the November issue of Seventeen when it hits newsstands on Tuesday, October 18th.
Check out the behind-the-scenes video of Heather's photo shoot for Seventeen: