Heather Matarazzo To Wed Longterm Girlfriend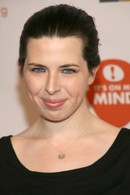 Actress Heather Matarazzo is set to wed her longterm girlfriend after same-sex marriage was legalized in New York.

The Princess Diaries star has been engaged to partner Carolyn Murphy since 2008 and the pair was planning to marry in California two years ago, but gay couples weren't allowed to wed in the state due to Proposition 8.
 
Now, they are planning to walk down the aisle in the Big Apple in late 2011 or early next year after same-sex unions were officially recognized in the state on Sunday.  Matarazzo says, "My eyes and spirit have opened up since I found someone that I get to share my life with."

Murphy adds, "I always wanted a wedding. Not a trip to City Hall."

And Matarazzo is already planning to have children with Murphy, adding: "We've always talked that (sic) Carolyn would have a child first, and then I will go."