Heather Locklear's Daughter To Make Film Debut In Judd Apatow Comedy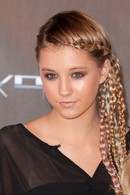 Heather Locklear's teenage daughter is following in the actress' footsteps - she's landed a part in Judd Apatow's new movie.

Ava Sambora, the 13-year-old daughter of the Melrose Place beauty and Bon Jovi rocker Richie Sambora, will make her debut in the as-yet-untitled comedy, according to TheWrap.com.

Ava will play the best pal of the movie's central teen character, Sadie, played by Apatow's daughter Maude.

The film is a spin-off of smash 2007 hit Knocked Up, with Paul Rudd and Apatow's wife Leslie Mann reprising their roles as bickering husband and wife.
 
Megan Fox will also star in the movie.