Heather Burns Discusses The New HBO Series 'Bored To Death'

Bored to Death
is a promising new HBO comedy that stars an excellent cast of comedic players in the form of
Jason Schwartzman
(
The Darjeeling Limited
,
Rushmore
),
Ted Danson
(
Cheers
),
Zach Galifianakis
(
Hangover
) and
Heather Burns
(
Two Weeks Notice
,
Miss Congeniality
). We recently had the pleasure of talking with the main players, Heather Burns, and here's what she had to say about Bored to Death.
Eric Stromsvold: Based off of the trailers it appears as though you're playing a character named Leah, who is Ray's girlfriend. What else is going on there?
Heather Burns:
Well, she's Ray's girlfriend. He's played by Zach Galifianakis and she's a mother in Park Slope. They're in a relationship and that's kind of what's going on with them; dealing with being in a relationship and the stuff that goes along with that; him being an artist and her being a little more stable.
Your character and Ray live in Park Slope and you're a mother; would you be considered a member of the Stroller Mafia?
Well, her children are a little older so I don't think so. I think that they're probably kids, so she's probably not pushing too many strollers, but perhaps.
And you apparently need to ask Jonathan the main character who is moonlighting as an illegal detective of sorts for some help.
Yes, I do. I ask him for help on just one of the cases with a friend of mine, and
Parker Posey
plays that friend.
I was wondering if you could tell me the premise of the show. He's a writer who decides to moonlight as a detective.
Well, it's written by Jonathan Ames who's a well regarding writer in Brooklyn. He's got a pretty impressive following; especially in New York. So he's the writer and the main character is named Jonathan after Jonathan, so it's loosely based on him. Jason Schwartzman plays Jonathan and he's a writer struggling with writing his second novel. He's had one novel that's been successful. He's writing his second novel and it's not going so well so he decides to moonlight as an unlicensed private detective on Craigslist in order to get inspired because he's a big Raymond Chandler fan. He likes all of those books and he thinks that it will help his writing.
Do you happen to know if Jonathan did that in real life?
I don't know. You know, I never asked him about this thing. I do know that he's a big fan of the whole noir genre and an important aspect of the show is the film noirish mood. So, I know that's a big factor, but I don't know if he actually did that. If he did that I wouldn't be surprised.
It's a very interesting thing to do.
He's an interesting guy so I wouldn't be surprised.
Is your character Leah based off of someone in particular?
I think probably the men on the show that play Jason's friends are. I think Zach Galifianakis and Ted Danson are loosely based on Jonathan's friends, so yes, she would be. He has a friend Dean Haspiel who's a graphic artist; he did the Alcoholic with Jonathan, which is a graphic novel. So, I think this character is loosely based on him. He's an artist and his best friend.
How did you get involved with the show?
I just read for it, got the part for the pilot and went forward from there. I had worked with Alan Taylor the director, we're friends and he directed the pilot so that was helpful, but I just went in and auditioned. I really liked the material and I just thought it was a great pilot. The writing's really good so I was thrilled to be asked to do it.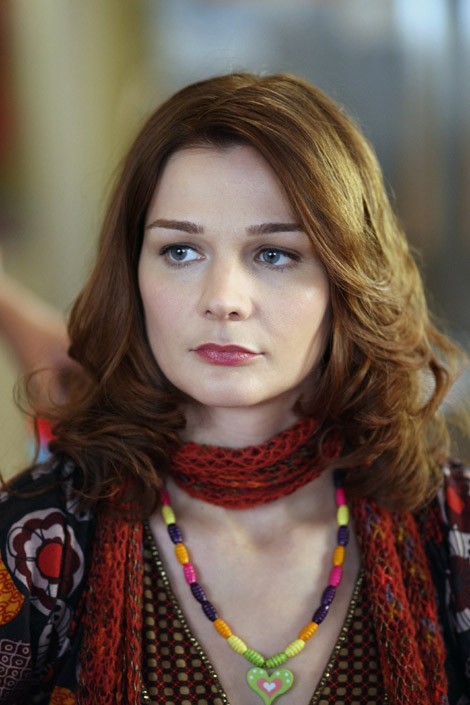 Heather Burns in HBO's Bored To Death © Home Box Office
What's that like working with Jason Schwartzman again? I think you guys worked together on Bewitched.
Yeah we did. It's great. He's wonderful. Obviously incredibly talented, he's also a super nice guy and he's super funny in real life and as you just mentioned we did work together on Bewitched so I knew what to expect. I knew he was going to be nice and easy to work with. I was looking forward to doing it again.
Bored to Death premieres on HBO Sunday, September 20th!
Story by
Eric Stromsvold
Starpulse contributing writer