Heartbroken Tom Cruise Desperate To See Daughter Suri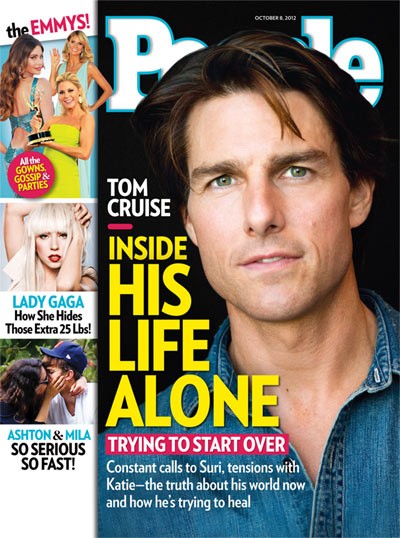 Separated from 6-year-old daughter Suri for almost two months, Tom Cruise, 50, confronts life as a divorced dad. This week's issue of PEOPLE examines how the actor is trying to heal, the tensions with former wife Katie Holmes, 33, and his constant calls to Suri. Despite an "incredibly wrenching year," says his friend, screenwriter Christopher McQuarrie, the actor can still manage his iconic grin.

The toughest part has been his separation from Suri, whom he has not been with since they returned from a Disney World vacation on Aug. 5 (the destination was Suri's choice, but Cruise was upset by the attention it attracted and wants to keep their future time together private, says a source. "He'll never do that again.") This was about a month before she started first grade at Manhattan's new Avenues private school. "I've got to see her," an emotional Cruise told a friend recently. "I miss her."

The mounting days – and an ocean between them with Cruise in London working long hours on the sci-fi film All You Need Is Kill – have sparked tabloid reports that Cruise has turned his back on his youngest child, prompted in part because she is no longer being raised in the Scientology faith. "Hogwash," says his longtime friend and attorney Bert Fields. "This has absolutely nothing to do with Scientology. This is something that's been going on her whole life – when Tom is shooting a film out of the country he has to rely on the telephone." Several sources say the two talk many times a day, with Cruise often telling her stories or asking her about school. "I can tell you that I haven't had a meeting with Tom that was not interrupted by a phone call with his daughter," says McQuarrie, who has worked on four films with Cruise. "His heart is broken. He misses his little girl and works very hard at parenting."

Sources say that Suri was scheduled to visit her father in London in mid-September, but the trip was called off amid Holmes's concerns that it would be stressful for Suri, who is adjusting to her Manhattan life. With primary custody, Holmes chose to enroll Suri in full-time school rather than home-schooling. Given Holmes's and Suri's new roots now in New York, it hasn't been easy for father and daughter to find time together while he's been filming. Says McQuarrie: "His hands have been tied."

Why can't the megastar, who has access to private planes and enormous creative control on his films, simply fly to New York? "There's a commitment [to his movies] that is huge while all this enormous change is happening in his personal life," says McQuarrie. "You can't simply put a movie on hold and go off and deal with your personal issues. He was finishing [the thriller Oblivion] when he learned his wife was divorcing him. He was immediately committed to [All You Need Is Kill] and there was no way he could not honor that commitment. You are talking about millions of dollars, hundreds of jobs."

"As busy as I am, the thing that through the years I've worked hard on and gotten better at is organizing things better," Cruise told PEOPLE just weeks before the divorce. "What I'm trying to do is organize stuff where I have time with my family even when I'm busy working, so I'm with them, even if I'm being intense on a movie set."

As the holiday season approaches – in the past Cruise has spoken of his love of spending Christmastime in New York with Suri and Katie – a source close to Holmes says visitation won't be an issue. Still, friends say the actor hopes to see his young daughter much sooner than that. "He loves his kid," says Fields. "And he's going to be a loving presence in her life as long as he lives."
Read more in the new issue of People magazine, on newsstands everywhere now.


*Also In This Week's 'People'*
Ashton & Mila: "His Family Adores Her"
Stacy London: "When I Went From 90 To 180 Lbs I Hated Myself"
Jeffrey Macdonald – Could He Be Innocent? "When He Loses Here, It Will Be The End Of Him"