HBO's Animated Series 'The Life & Times Of Tim' Debuts Sept. 28

On the surface, Tim is a typical, twentysomething New Yorker who's looking to get ahead at work, while his girlfriend Amy just wants him to be normal, like her friends' boyfriends. But in Tim's world, the simplest everyday decisions get in the way, thanks to his habit of befriending unreliable characters who repeatedly get him into serious trouble.
The offbeat animated late-night comedy series
The Life & Times Of Tim
, produced by Media Rights Capital, kicks off its ten-episode season Sunday, Sept. 28 (11:00-11:30 p.m. ET/PT), exclusively on HBO. The show follows the debut of
Little Britain USA
, with other episodes debuting on subsequent Sundays at the same time.
Conceived and written by Steve Dildarian,
The Life & Times Of Tim
chronicles the misadventures of an average guy whose instincts repeatedly lead him down the wrong path. Clio Award winner Dildarian also executive produces the series and provides the voice of the title character.
Other voices on the show include Mary Jane Otto as Amy, Peter Giles as The Boss, Matt Johnson as The Boss' assistant, Rodney (among other characters), and Nick Kroll as Tim's best friend Stu.
Each half-hour episode of
The Life & Times Of Tim
consists of two segments that find Tim in a new and unenviable dilemma.
Episode #1
Debut: Sunday, Sept. 28 (11:00-11:30 p.m. ET/PT). Other HBO playdates: Sept. 29 (11:00 p.m.) and Oct. 1 (midnight) and 3 (2:00 a.m.)
HBO2 playdates: Oct. 2 (10:30 p.m.) and 3 (8:30 p.m.)
"Angry Unpaid Hooker": Tim tries to explain why Debbie, a prostitute, is in his apartment when his girlfriend Amy and her parents arrive home early from a cruise.
"Rodney's Bachelor's Party": Trying to save face after his bachelor party fails to live up to expectations, a co-worker makes up a debauched tale that complicates Tim's life.
Watch clips from this great new show at
www.hbo.com/tim/
.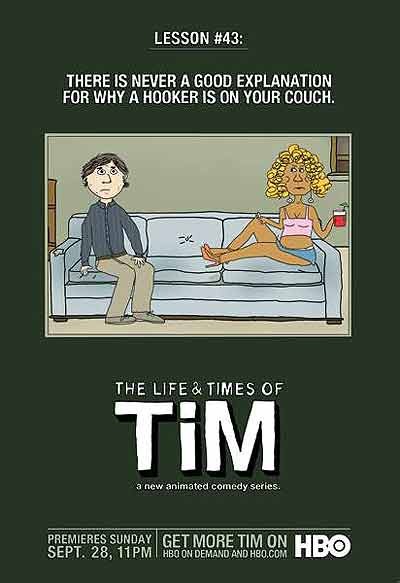 The Life & Times Of Tim is produced for HBO by Media Rights Capital; written and created by Steve Dildarian; executive produced by Steve Dildarian, Tom Werner, Jimmy Miller and Mike Clements; co-executive producer/art director, Leynete Cariapa; producer, Monica Mitchell.