HBO Miniseries 'Generation Kill' Premieres July 13

"Generation Kill," a seven-part miniseries from HBO Films, is the first-hand narrative account of the young Marines of the First Reconnaissance Battalion - the "tip of the spear" for the American military's march into Iraq.
Based on the award-winning nonfiction account of the same name by Evan Wright, the journalist embedded in the lead Humvee of First Recon's Bravo Company's Second Platoon, the miniseries is a precise retelling of the early weeks of the military campaign from the point of view of the guys on the ground: the non-commissioned officers and platoon-level commanders who led the way to Baghdad.
Real events are depicted. Real names are used. As much as possible, the film employs the precise dialogue reported by Wright, a
Rolling Stone
correspondent assigned to First Recon Battalion during their last weeks in Kuwait. The filmmakers made every effort to recreate Wright's account of Bravo Two Marines riding from the Kuwait border into the slums of Baghdad.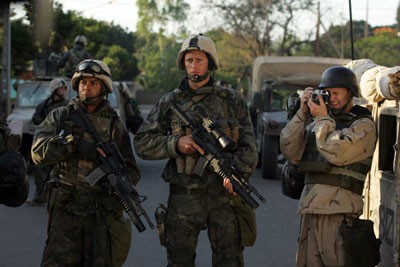 Photos by Paul Schiraldi/HBO
"Generation Kill" debuts Sunday, July 13 (9:00-10:15 p.m. ET/PT), followed by other parts on subsequent Sundays at the same time, running for seven weeks through the end of August, exclusively on HBO. Beginning with week two, the previous week's episode will be presented prior to the new one.