HBO Film 'The Girl' Explores Alfred Hitchcock's Obsession With Tippi Hedren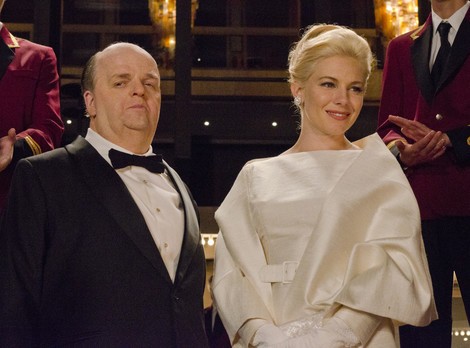 Somehow, 36 years after he made his last film and over three decades since he passed away, Alfred Hitchcock is still a star.
More than any other director in history, Hitch, as he was called by many who worked with him, was as famous as the people he directed in his films. So perhaps it's not all that surprising that the Master of Suspense is the subject of two big films this year – the first being HBO's 'The Girl,' airing Saturday, Oct. 20.
The well-cast telefilm is about the making of two of Hitchcock's later works – 'The Birds' and 'Marnie,' both in the 1960s – and his relationship with the star of both of them, a then unknown Tippi Hedren. The film delves deep into their complicated relationship and is based on the book 'Spellbound by Beauty' by Hitch's biographer Donald Spoto.
It couldn't have been easy for Spoto to write that book; a huge fan and scholar of his films, Spoto realized over the years after interviewing every famous actor and actress under the sun that Hitchcock had some true demons. One of the few women still around to share the tale of Hitch's sexual harassment and unrequited love is Hedren herself.
The actress was a relative unknown when Hitchcock's wife Alma noticed her talents in a TV commercial. Soon Hedren found herself the star of one of Hitchcock's most ambitious and expensive productions, 'The Birds.'
Toby Jones plays Hitchcock in 'The Girl,' while Sienna Miller fills Hedren's shoes. They both gamely take on the role of director and star of 'The Birds' as the odd pair's relationship deteriorates over the course of making that iconic picture. Hedren is at first charmed by Hitchcock, but when he becomes obsessive, controlling her look and her clothes, she finds that she must keep her distance.
As director Julian Jarrold notes, both the relationship and the film start off on an optimistic note, but each gradually grows darker and darker. He says bluntly, "Hitchcock could be the most charming person in the world, and sometimes he behaved like a bully."
Miller echoes that sentiment and says that due to the director's jarring behavior, Hedren "rebuffed his advances, leading to a simmering tension and, sadly, the eventual disintegration of their relationship." And Jones, who had to endure wearing a fat suit and several hours in the makeup chair to perfect Hitchcock's famous profile, sums up 'The Girl' nicely by noting that it "explores the limits of Hitchcock's control over Tippi and to what extent he wasn't able to manipulate her. I think he became more and more intrigued with that part of her that he wasn't able to control."
The movie depicts several scenes of 'The Birds' (and some of 'Marnie') being filmed, including the famous attic scene where Hedren's character Melanie Daniels is attacked by birds, a somewhat tricky proposition since Hitchcock buffs are sure to be watching for the gory details. Still, the actors in the HBO film, including Imelda Staunton as Alma and Penelope Wilton as Hitch's longtime assistant Peggy Robertson, keep the film in check. It was actually shot in a mere 28 days in South Africa, a surprisingly perfect depiction of Northern California.
For his part, Jarrod met with Hedren (as did Miller) and says that her memories of that time were invaluable. Hedren has been open about her experience with the director in recent years, all the while admirably appearing in interviews and DVD commentaries expressing her admiration for Hitchcock's work.
What 'The Girl' comes down to, Jarrod says, is Hitchcock's loneliness and the unfortunate way he handled it. He calls the Hitchcock-Hedren relationship a tale of "unrequired love" on the director's part, and his behavior likely caused the actress to distance herself from him, an ironic consequence of his quest: "This slightly cool, distant quality of hers took him to further levels of obsession," he says.
'The Girl,' a 90-minute movie, can only scratch the surface of how 'The Birds' and 'Marnie' were made, of what Hedren endured and of what Hitch became. But Hedren's rising stardom and the director's talent and loneliness make for a very intriguing story which Hitchcock himself would have appreciated.