Hayden, Amanda & Emma: Underrated Young Stars Who Leave Their Underwear On

Young celebrities have the added pressure of puberty, acne, and first loves to deal with along with the typical Hollywood requirements of paparazzi, screaming fans, and 12-hour work days. But it seems like stars such as Hayden Panettiere and Amanda Bynes didn't have to break a sweat as they grew up in front of the camera. Born with the talent to perform, Panettiere and Bynes have been acting since they were under 10 years old and have been floating under the radar ever since.
 
Sometimes in Hollywood talent isn't enough, and the likes of Bynes and Panettiere may be paying a price for leaving their house with their underwear on and skipping the yearly trips to rehab. Some stars make millions by calling the paparazzi themselves, releasing sex tapes, and hosting parties at clubs. Others decide to stay out of the tabloids and take the high road to fame and fortune. These actresses have been able to avoid controversy, as they let their work speak for itself. These girls aren't Oscar contenders, but they can certainly entertain and are hugely underrated.

Amanda Bynes began her career working for Nickelodeon and later moved on to an older audience for the WB's popular comedy "What I Like About You." With several successful films on her resume such as "Big Fat Liar," "Hairspray," and "She's the Man," Bynes has a witty sense of humor that is not typically seen from actresses her age. It'll be interesting to see if Bynes chooses to take on more dark, challenging roles or if she will choose to remain in fun, light-hearted comedies in the future.   

20-year-old Hayden Panettiere was working with A-list actor Denzel Washington when she was only 11 and has been starring in film and television roles ever since. Probably known best for her role on NBC's sci-fi drama "Heroes," Panettiere has played cheerleader Claire Bennet since 2006. Most recently, she has starred in the teen comedy "I Love You, Beth Cooper," which didn't perform too well, but gave Panettiere fans something to watch that didn't involve super-powers.  



Stepping out of the shadow of her superstar aunt Julia may seem like a daunting task, but Emma Roberts has surprised many by receiving acclaim and major praise from fans and critics alike for her acting and singing abilities. The 19 year old beauty made a name for herself on Nickelodeon's "Unfabulous" and has appeared in the box office hits "Hotel for Dogs" and "Valentine's Day." Roberts is multi-dimensional as she has a strong singing voice, already releasing her first album five years ago.

These underrated actresses have the talent to stay around, and time will tell if these ladies are able to get the recognition that they deserve in the long run. These three have been able to stay out of Hollywood's bad girls club, and hopefully fans will see more from them in the future. Lindsay Lohan may have more exposure, but these girls certainly have her beat when it comes to class.  
See more photos of Amanda here!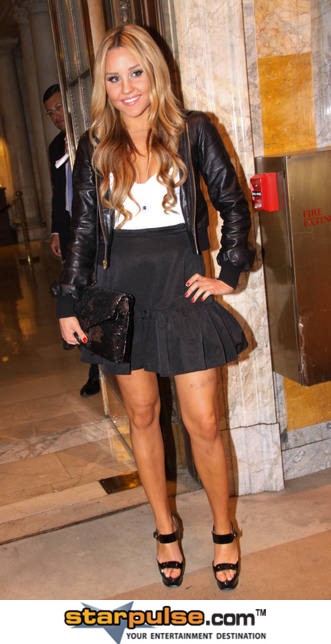 Story by Brian McKeon

Starpulse contributing writer