'Hawaii Five-O' Finds Its New Regular (Ish)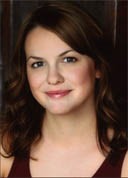 Remember awhile back when we reported that Hawaii Five-O was looking for a new regular? Well, they have her. Sort of.
TVLine.com is reporting the new kid on the block is Larisa Oleynik, probably best known to me and my fellow Nickeleodeon-raised twentysomethings as the title character on that network's The Secret World of Alex Mack. She's now turning thirty this year, and her roles since then have included 3rd Rock From The Sun and Mad Men.
According to TVLine, her role is that of "Jessica Kaye, an ex-CIA analyst and Harvard graduate with a degree in Political Science and a Masters in Global Security and Intelligence Studies who is fresh off the plane from Langley, Virginia" whose fiancee was murdered by Wo Fat (Mark Dascascos), giving her a personal reason to come and help Five-O bring him down. That's a big mouthful of credentials, but as anyone can tell you, a character can look amazing on paper and fall flat on screen.
Here's where the "sort of" comes in. Oleynik's role is recurring for the rest of this season, and with the option to become a regular in the not-yet-official-but-probable season two. So she is not necessarily a regular, not unlike Taryn Manning, who was billed as one only to see her Mary Ann McGarrett shipped off to Los Angeles. With that and the show's use of Masi Oka - whose Max Bergman is finally coming back for a few episodes after his own disappearance - in mind, I remain skeptical about whether or not Oleynik will really become a regular, or if she even should. Why mess with an ensemble that already works?
What do you think of the casting? Ready for the Five-O team to become literally five? Or do you think Oleynik won't stick around either?
For more Hawaii Five-O, check out the show category at my blog, DigitalAirwaves.net.