'Haven': Kate Kelton Talks Jordan's Not-Death And Her Own Talent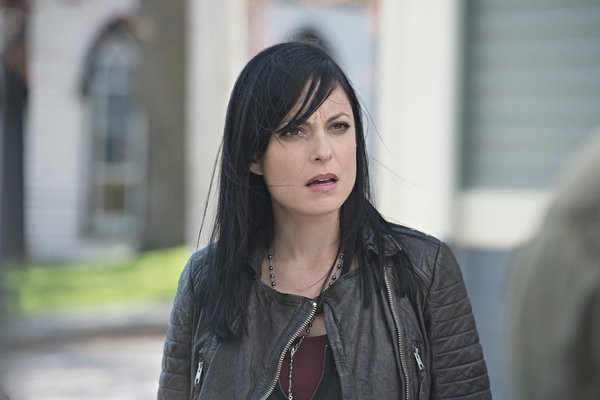 SyFy's Haven is back and rolling for another season, so BFTV checked in this week with Kate Kelton - who plays the recurring character of Jordan on the paranormal hit - to find out what it's like to come and go from the mysterious town. Read on for Kate's thoughts on Jordan's survival and to find out what she has in common with Bob Ross and his happy little trees.
Haven has many secrets, and while Kate said she can "absolutely not" tell us how much of Jordan we'll see in Season 4, she did tell us what it's like to try and keep up with the goings-on when you're an irregular player. "We don't get the scripts that we're not in," she revealed, "so I'm constantly writing to the writers and begging and trying to see what's up!" She does get a little bit of help, though, as she added that "When you come into a script, it tells you what happened last episode."
She is beyond thrilled to be back at work on the show, especially since Jordan was in a bit of a predicament the last time we saw her. "It definitely felt pretty amazing when I got that call that I didn't die from my bullet wounds last season," she continued. "I was jumping for joy. It was only supposed to be a six-episode arc last season for me and it got extended." Now we couldn't quite see Haven without her.
What's the best part of the gig? "I've got to say, the travel, because Nova Scotia is so incredibly beautiful," Kate told us. "I remember really busting my hump in the first audtiion for this, because I saw it was shooting near Halifax. The concept of having a paid summer vacation where I get to do what I love, it was sort of an easy sell!"
When Jordan isn't around, though, there are other projects you can catch Kate in, although they're definitely not the same kind of programming. "I still feel so new at this. I still feel like I don't have that many credits to point people to," she said. "Bullet In The Face is a series I did for IFC that I did a few years back. It's sort of action comedy. It's absolutely insane. It was with Eddie Izzard and Eric Roberts and they were such a hoot to work with."
Our personal favorite line on her resume? Back in 2005, Kate guest-starred in the last episode of the CTV series The Eleventh Hour, a news drama that starred Rookie Blue's Ben Bass and Endgame's Shawn Doyle. "That was really amazing to get in on that season finale, because it got cancelled after that," she reflected. "And I believe the following year, it was nominated for like eleven Gemini [Awards] or something like that!"
Coming up, you'll also be able to see Kate in an independent feature film called Unearthing. "it's just beautiful," she said of the script. "It has sort of a mysterious sci-fi type vibe to it, but then at the base of the story, you find out that it's a really beautiful love tale."
Until then, if you're not seeing Kate on Haven, she might be busy watching Orphan Black. "I'm a huge Orphan Black fan now. I'd heard some stories about it, because the makeup artist that worked on it also does Emily [Rose]'s makeup on Haven and did my makeup last season. I just couldn't get enough of all of the different tricks, all of the different characters," she said. Before she knew it, she found herself up at 4:30 in the morning finishing the first season, "and that's never happened to me before!"
And while she may not have any paranormal powers, she does have a not-so-hidden talent: she's an artist. "I love painting. I've been an artist and drawing and sketching and painting since I was like two years old," she told us. "I think that was the first love. The good thing about that is there's no age or weight or height or beauty requirement. I'll be doing that until I'm dead, I'm sure." But hopefully she'll be staying alive on Haven for a lot longer.
Haven is all new tonight on SyFy.
(c)2013 Brittany Frederick. Appears at Starpulse with permission. All rights reserved. No reproduction permitted. Visit my official website and follow me on Twitter at @tvbrittanyf.