Have You Heard? Super Killer Fire

Boasting a concrete modern rock sound influenced by such bands as
Korn
,
Pantera
and
Killswitch Engage
, as well as a new album, "The Test", produced by Erik Nelson at Eclipse Studios (
Mudvayne
, V Shaped Mind), the Danville, Illinois group
Super Killer Fire
are creating a buzz all their own, and seem to be gaining fans by the day.
Sure, they might refer to their hometown as a 'hole,' but it is where they got together as a band.
"It all started out when Jermery (drums) and Rich (guitar) worked at the same place," said singer Brandon Taylor. "Once they realized they were both musicians they did what most musicians would do and jammed a bit. Jeremy's best friend, Jake got back from the Air Force and filled the vacant bass position, then after working with a few frontmen Jake got a hold of me by talking to a good buddy of ours. So we jammed, it felt good from every angle and that's how and why everything fell into place."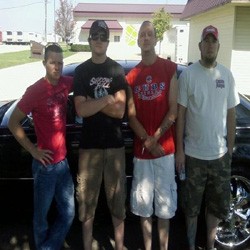 Super Killer Fire possesses solid songs, and has a good knack for unadulterated rock songs, full of quality, singable hooks, the use of hot and cold vocals and guitars that can both lull and rip. Think rock along the same lines as
Lifer
or
Flaw
.
Perhaps Taylor can put it better. "I always like to say our music sounds like 'a smorgasboard of rock n roll influence,' but that's just my way of putting it."
Listen, it's easy. If you like pretty good rock music, you'll like Super Killer Fire. Yeah, the band's name might leave a little something left to be desired, but their music makes up for it. 'Mistakes' and 'Tank Engine' solidify that sentiment. They know how to write good sounding riffs, even though they might go about it a little differently than you might think.
"I think I've got a bit of an odd imagination, so that comes into play a lot," adds Taylor. "I also do a lot of writing about everyday life, personal experience, and fantasizing about your mother. No but really, I just like to connect with and motivate people as much as I can, that's the fun in being a frontman, the connection with the people. We all throw our own personal touch on the song and there is no pecking order in our band. We all take constructive criticism very well."
With new material on the horizon, look for more of Super Killer Fire in the near future. In the meantime, feel free to join the ranks of their street team.
Check out Super Killer Fire here
Story by
Brian Campbell
Starpulse contributing writer