Have The Jonas Brothers Lost Their Luster?

Recent rumblings in the press seem to suggest that the
Jonas Brothers
are not the hot commodity they once were. Consider, for example, the release of their recent 3D film project "
The Jonas Brothers: The 3D Concert Experience
." It pulled in just a little over $12 million. Yes, they are still a million dollar music act, but the millions that they are now generating is deemed under par for a top selling act of today. However, this scenario perhaps had more to do with the fact that parents weren't on board to shelling out the $20 price tag that came with the flick.
Is the trio to suffer the same fate of young family acts, such as
Hanson
, only to encounter waning popularity as they are transitioning into adulthood? This is what the world waits to see with today's release of the new Jonas title "
Lines, Vines, And Trying Times
."
Whether it's a matter of fans growing up and moving on, the same idea can be applied with the trio and their current CD. With a musical journey that pretty much began to take shape in 2005, and completing four studio recordings to date as a band, this marks a period of continued transition. The band's developing maturity transcends from here and can be most observed in the song writing direction. Gone are the days of their cover hit single, of England's boy band
Busted
, "That's Why I Go To School For."
Google shows, yes, the Jonas Brothers have dipped in popularity: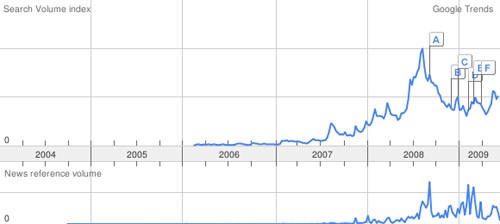 To his credit,
Nick Jonas
, who has publicly shared his musical inspirations from music industry legends before him like
Elvis Costello
, displays the band's ambition in further honing their song writing skills. The main theme throughout the album deals with common tensions found in relationships. Whether auto-biographical or not, as in lead single "Paranoid," it works well in sound and delivery. There a number of catchy pop verses, clean melodies, and new country flavored instrumentations thrown in the mix for a different vibe.
The biggest surprise is an earnest ballad duet titled "Before the Storm" featuring Nick Jonas and former flame
Miley Cyrus
. Fans also will not be disappointed with other perks included. "Lines, Vines, And Trying Times" is an enhanced release that comes with a booklet of exclusive photographs, behind-the-scenes band videos, and a bonus track "Keep It Real."
Who knows what the future holds for The Jonas Brothers. But, one thing's for sure, they will continue to work on being the "brothers that rock together" and "roll together" as best as they can for now.
Share your views on The Jonas Brothers' "Lines, Vines And Trying Times" in the comments below!
Story by
Claudine Paul
Starpulse contributing writer