Has Will Ferrell's Comedy Gone The Way Of The Dinosaur?

Once upon a time, I used to think
Will Ferrell
was the funniest man alive. I watched him religiously as Alex Trebek in the "
Saturday Night Live
" celebrity "Jeopardy" sketches, chuckling as he suffered through the shenanigans of
Darrell Hammond's
Sean Connery
.
Ferrell's impressions on "SNL" and wacky roles in movies like "
Old School
" and "
Anchorman
" perpetually kept me laughing. His characters had this special zany quality to them that made them extremely quotable.
I personally idolized his ability to make people laugh, and I respected that a man who studied broadcast journalism in college still went on to become a famous comedian and actor. As a broadcast major with dreams of acting myself, I saw his example as one I could follow.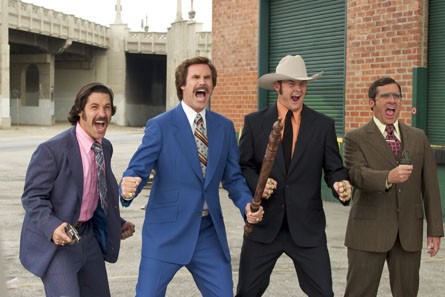 Image © Paramount Pictures
As time went on and my hopes for acting took a back seat to other more realistic interests, my affection for Will Ferrell's comedy began to wane as well. Ferrell's shtick started getting tired, as he took on a host of leading roles in big budget comedies playing the same character: a pompous buffoon, in desperate need of a dose of humility.
What happened to Will Ferrell? Perhaps his comedy went the way of the dinosaur, or fell into a time warp at some point like in his latest film "
Land of the Lost
." Recently I posed the question to myself, "Is Will Ferrell Still Funny?"
My answer to that question however, is a little more complicated than a simple yes or no. In fact, it's no, then yes. I'll explain. As a leading man, I don't think Will Ferrell is still funny; he just doesn't have the comedic strengths to carry a whole film. When it comes to supporting roles though, I think Will Ferrell is still hilarious.
Following 2004's "Anchorman" Ferrell embarked upon a series of movies that suffered from mediocrity. After 2006's "
Talladega Nights
," I really stopped caring about Will Ferrell movies because I had become fed up with him continually playing the same character.
"Talladega Nights" grossed the highest of the post-"Anchorman" string, raking in $148 million. But most of Ferrell's other movies did atrociously in comparison: "
Kicking and Screaming
" made $52 million, "
Stranger Than Fiction
" grossed $40 million, and "
Semi-Pro
" fetched a pathetic $33 million.
While 2008's "Step Brothers" earned a more encouraging $100 million, Will Ferrell's newest movie "Land of the Lost," which came out last week, had a hugely disappointing $18.5 million opening weekend. The failure of Will Ferrell's movie up against the week's big comedy "
The Hangover
" further proves to me that he isn't funny anymore, and that the general public doesn't think so either.
Now that I've stated my case about how I don't find Will Ferrell funny, I will elaborate on how I do still find him funny. I have always found Will Ferrell to make me laugh the most, when he is in supporting roles. His wacky characters play off the more normal characters well, accentuating his lunacy.
My two favorite supporting roles he played were Mugatu in "
Zoolander
" and Chazz Reinhold in "
Wedding Crashers
." As Mugatu he was a comically diabolical fashion designer, with plans of world domination. In his scenes as Chazz Reinhold, he stole the thunder from
Vince Vaughn
and
Owen Wilson
, as the kooky loser in his 30s still living with his mother.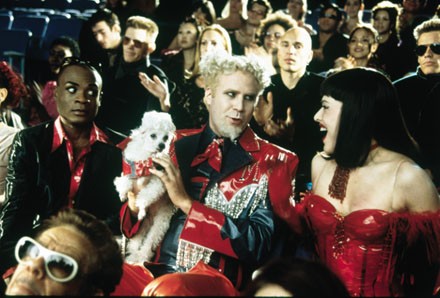 Image © Paramount Pictures
Will Ferrell always shined in supporting roles during his time on "SNL." He did brilliant impressions of famous personalities like
George W. Bush
,
Neil Diamond
, and Harry Caray. His most recent humorous impression was his appearance as Neil Diamond in the music video for the song "Cool Guys Don't Look at Explosions" from the 2009 MTV Movie Awards.
I think Will Ferrell's career as a leading man is starting to dry up, and audiences are growing weary of his films. I think he should step out of the spotlight though, and go back to what he does best, which is great supporting characters. In my mind it would help him salvage his reputation, and give himself an opportunity to regroup in order to find different types of funny characters he can play.
Story by Starpulse contributing writer
Evan Crean
, a movie trivia guru and trailer addict with a practically photographic memory of actors and directors. Get a first look at the movies premiering each week, which which ones will be worth your $10, which ones you should wait to rent and which ones aren't worth your time.