Harvey Weinstein Took A 'Crazy Gamble' On 'The Artist'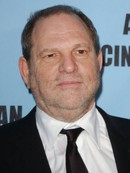 Movie mogul Harvey Weinstein took one of the biggest gambles of his professional life when he financed The Artist, and was even summoned before his company's board of directors to explain his decision.

The critically-acclaimed French movie has dominated the 2012 awards season and is tipped for glory at Sunday's Weinstein decided to distribute the silent, black and white film through his The Weinstein Company after visiting the moviemakers in Paris, France, but his decision raised eyebrows back in the U.S.

He tells Piers Morgan, "Three weeks after we win the Oscar for Best Picture last year for The King's Speech, I get this phone call... I just decided to go to Paris from New York on a phone call. I call home and I say 'Guys, I just bought a movie'. They said great. Tell us about it. Black and white, OK. It stars Jean Dujardin. Who's he?... I tell them the price. And then they say 'Anything else?'. I said, 'Oh, I forgot one thing. It's silent.'

"And at that point, it was all bedlam in the office. They said to me you have to go before the board of directors. I said I didn't know we had a board of directors of the company... I had to go to the board of directors."

However, Weinstein is adamant the "gamble" will have paid off if The Artist wins an Oscar, adding, "This is against all odds. This is the biggest gamble that the company took. It is the most craziest (sic) thing ever... I didn't do it for the money, but it's been the ride of a lifetime."