Harry's Heart: Rumors Abound That Prince Harry Might Be Yearning For Lovely Cressida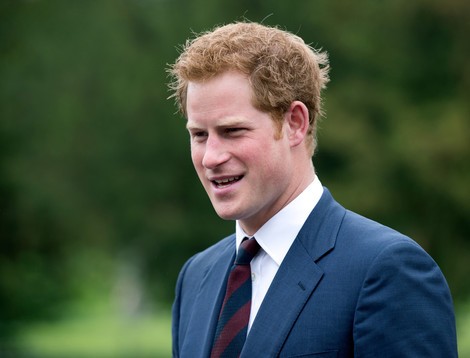 Right now royal insiders and those who frequent the London social scene are beginning to wonder if Prince Harry might in fact still be attached to ex-girlfriend Cressida Bonas! Harry was reportedly texting Cressida several times a day while he was at the wedding of friend Guy Pelly (who married hotel heiress Elizabeth Wilson just a few short days ago) and there are rampant rumors that there might be a series of secret talks between the two that means that it's not over for the pretty blonde socialite.
Cressida and Harry's split was publicly confirmed just two weeks ago and it is reported that the party prince with the soft heart could in fact be morose about his new single life. The couple reportedly had a huge fight over the fact that Harry didn't want Cressida to come to the United States with him and Cressida felt keenly rejected since she is well liked in the royal set (having Princess Eugenie and Beatrice of York as friends) and didn't see any reason why she shouldn't be able to go. Interestingly, Duchess Kate didn't go with her husband either, due to the belief that for the Duchess to go with her husband would create even more of a frenzy than has already happened. Apparently Prince Harry was keen to make sure that Pelly got as much attention as possible and Cressida felt she was being kept in the background as if Harry was either ashamed of her or was in fact keeping his options open and not letting her be part of his private life. As a result, there was an ultimatum from Cressida to take her with him or break up; Harry chose to end the relationship and it caused a large amount of pain for the Prince.
The Prince's partying ways seemed to have been put behind him with this new long-term relationship, but with the breakup, the worries of the courtiers that Harry might return to more hedonistic ways has surfaced with several courtiers concerned about how Harry might react. Prince Harry was reportedly enjoying himself at the wedding reception and after party, but oddly, none of the Southern beauties attending the reception have had their names linked with him and he's been oddly restrained from his usual party lifestyle. It's understood that Harry as a single man is now free to live a wilder lifestyle, but as of late the prince has been working on cultivating a more military centered life and with his recent promotion (controversial decision on the part of the armed forces) to Major in the army, Harry is facing a lot of derision and will have to work hard at proving he is more than just a partying prince with a new rank given by his grandmother Queen Elizabeth, who is keeping a close eye on developments.