Harrison Ford Talks 'Star Wars' For Charity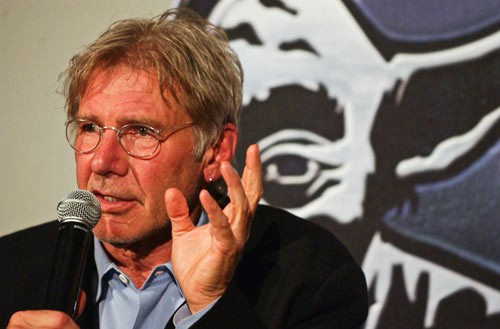 As an entertainment journalist, I've interviewed Harrison Ford four times and never heard him talk about Star Wars. For 30 years, he saved that for charity. Now, George Lucas sponsored the Empire Gives Back initiative, where anniversary screenings of the second film in the saga would be screened for St. Jude Children's Research Hospital.
In Los Angeles, Ford attended the screening on May 19 and participated in a Q&A for the audience. That particular show raised $40,000 for St. Jude's. "I want to thank you all for being here and I want to thank George for his generous impulse," Ford said. "I think the notion of using the anniversary of Star Wars to make a number of contributions to really worthy causes is something I'm very proud of him for doing. I'm happy to be here in support of St. Jude's and thank you all for the contribution that you've made to this evening."
One of the child fans asked Ford if his kids liked the movie, and considered him a superstar like everyone else? "Funny enough, they don't get that part," Ford responded. "I have children of all ages. Some of them are the same age as I am. So 30 years ago I had a 12-year-old and a 10-year-old. I think they very much appreciated the film at the time, but I wasn't a superstar. I was just dad."
Giving a shout out to his co-star, Ford made sure we all knew what hard work Peter Mayhew put into playing Han Solo's sidekick Chewbacca. "Peter was the hardest working man in show business at the time. It was miserable to be locked in that suit. Very difficult. I had great sympathy for him." Mayhew was also in the audience on the 19th.
Ultimately, there is little unknown about the Star Wars series. It's so well documented, one fan was disappointed to hear there are no secret deleted scenes that we've not yet seen. "No, I don't actually remember anything that was cut out. I think George used everything he paid for."
Reflecting on the landmark filmmakers for which he starred - Lucas, Steven Spielberg and Francis Ford Coppola – Ford offered a perspective on a world of cinema that today's kids might not know about.
"Film at that time was a very vital part of our lives. There was such a strong audience for theatrical films. The innovations which came along which allowed you to see so much of what we look at now at home weren't available. A movie theater was still a very strong part of our lives. I think that has a lot to do with it and I think there were a lot of wonderfully talented people that were involved at that time. I was just glad to be there at the time."
Check Starwars.com for more "Empire Gives Back" events throughout the year, or donate directly to www.stjude.org.
More photos from the event