Harrison Ford Flips Out Over 'Star Wars' Questions On 'Jimmy Kimmel Live'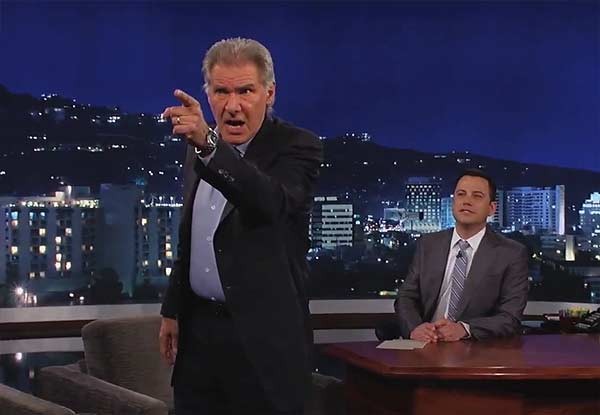 Harrison Ford promoted his latest film, Jackie Robinson biopic 42, on Jimmy Kimmel Live Wednesday night, and the actor became a bit heated after being asked about the upcoming Star Wars sequel, Star Wars: Episode VII.

When asked about the upcoming J.J. Abrams film, Ford said he couldn't talk about it, but was willing to let a few fans of the sci-fi saga ask him a few non-"Star Wars" questions.

But things got heated and Ford ended up walking off the set after encountering a former friend in the audience and calling him a "son of a b***h" and a "sack of s**t."

So far everyone attached to the upcoming film has been keeping mum on the details, although Ford, Carrie Fisher and Mark Hamill have all reportedly signed on to reprise their characters from the original trilogy.

More details are expected later this summer at San Diego's annual Comic-Con. The new film is expected in 2015, presumably in May.


Check out Ford's first confrontation with his old friend from when he was on the show in 2011 promoting Cowboys & Aliens...