'Hardy Men' Director Is Challenged With Script For Ben Stiller & Tom Cruise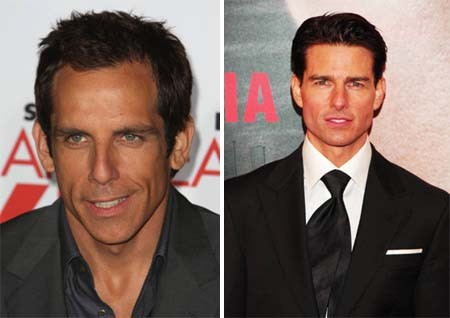 After
Tropic Thunder
showed the world how funny, and unrecognizable,
Tom Cruise
could be in a comedy, he and
Ben Stiller
are set to work together again.
The Hardy Men
would cast them as the teen sibling sleuths The Hardy Boys all grown up, and not getting along. Stiller's
Night at the Museum
director Shawn Levy is producing, but explained why development is taking so long.
"Developing a movie for a movie star is hard," Levy said. "Developing a movie for two movie stars is a very, very challenging enterprise. The bull's eye is small and the tone has to be exactly right. So we are still working on it."
Still, it's easy to imagine the potential when you see Tropic Thunder. "Yes, I saw how well Ben and Tom got along and that's what gave me the idea of wait a second, I've got to do a movie with them together. Wait a second, let's do The Hardy Men with them together. That brainchild came about because I saw their chemistry as friends."
Part of the development process is also figuring out what mystery grown-up Hardys would solve. "We have tried several. No we have not locked in on one."
Levy has learned how to carefully answer these questions, because he's hounded by them in every interview. "Yes, certainly among a certain quadrant of the audience, no movie on my IMDB page is as anticipated as Hardy Men."
Story/Interview by
Fred Topel
Starpulse contributing writer
(Starpulse in Hollywood)
: Every week, Hollywood's biggest stars are meeting in the hot spots and Starpulse is there.