Happy Haunted MusicWeen! A Few Haunted Music Videos For Your Enjoyment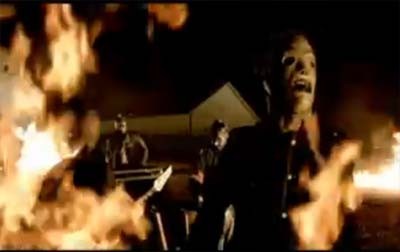 Happy Haunted MusicWeen! October brings joy to those with a taste for the macabre. Themes embraced this time of year are horror, fear, death, and terror. What better way to celebrate the festivities than with our own selection haunted music videos for ghoulish enjoyment. Rate these music videos, and let us know if they rattle your bones to the core!
Aphex Twin's
Come To Daddy Aphex Twin wants you to "Come To Daddy." Needless to say, no wants to be a part of this horror fest.
Marilyn Manson's
Beautiful People "The beautiful people, the beautiful people," in this montage are those solely beheld in the eyes of horror Manson.
Rihanna's
Disturbia Rihanna's good girl gone bad image is disturbingly on the loose in her darkest video to date.
Depeche Mode
's Blasphemous Rumours "Girl of sixteen whole life ahead of her, slashed her wrists bored with life," which opens this blasphemous video re-interpretation of Depeche Mode's "Blasphemous Rumours," leaves no room for laughter.
Bone Thugs-N-Harmony's
Tha Crossroads A modern day grim reaper extends a compassionate hand at death's unwanted door in this Bone Thugs-N-Harmony epic "Tha Crossroads."
Bjork
's All Is Full Of Love Robots come to life and are hauntingly all full of love in Bjork's conceptual world.
Jay-Z/Rihanna/Kanye West
- Run This Town Jay-Z, Rihanna, and Kanye West finds viewers running from this town that they can have all to themselves.
Wax's
Southern California A man running on fire, as directed by Spike Jonze, in Wax's video is not a comforting sight.
Slipknot
- Psychosocial Slipknot shout out the spooks with their nightmarish facial masks in "Psychosocial."
Michael Jackson's
Thriller This is it! Creme de la creme of all horror music videos is Michael Jackson's "Thriller." Released in 1983, under the direction of film director John Landis, the pioneering video incorporates classic horror movie themes, haunted music, and memorable choreographic monster dance scenes. Jackson's "Thriller" film video has withstood the test of time.
Story by
Claudine Paul
Starpulse contributing writer