'Happy Gilmore' Grandma Frances Bay Dies At 92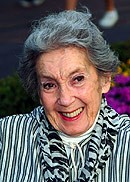 Veteran actress Frances Bay has died at the age of 92.

The TV and film star passed away on Thursday.

Bay spent the first half of her life as a housewife, before choosing to pursue a career onscreen in the 1970s when she was already in her late 50s.

She made her movie debut in 1978 comedy Foul Play, starring alongside Goldie Hawn and Chevy Chase, and she went on to land small roles in The Karate Kid and Arnold Schwarzenegger and Danny DeVito's hit comedy, Twins.

She was perhaps most recognized for playing The Fonz's grandmother on hit 1970s TV series Happy Days, and portraying a similar character as Adam Sandler's elderly relative in 1996's Happy Gilmore.

Bay also featured in John Carpenter's horror In the Mouth of Madness in 1995.