'Happy Days' Stars Receive Payments From Royalties Case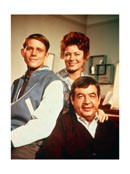 The cast members of Happy Days who are fighting for a share of merchandise proceeds from the hit show have received small payments from TV bosses.

A number of the sitcom's stars, including Marion Ross, Anson Williams, Don Most, and Erin Moran, have filed a $10 million lawsuit against bosses at CBS, alleging they are owed money from sales of Happy Days-themed merchandise which features their images.

The actors have now received checks from CBS, with values ranging from $6,000 to $6,500, and the group's lawyer, Jon Pfeiffer, reveals studio bosses "claimed that is the full payment for all that was owed," according to the Associated Press.

Pfeiffer has vowed to keep fighting the case. The series ran between 1974 and 1984.