Happy Birthday: Ben Daniels & Shane West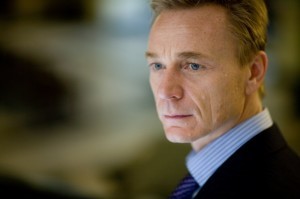 A very happy birthday to two Digital Airwaves favorites today -- Law & Order: UK's prosecuting authority Ben Daniels, and Nikita's charismatic superspy Shane West.
Ben Daniels is affectionately known and sometimes worshiped around here for his role as LOUK's relentless Senior Crown Prosecutor, James Steel. For the first four seasons of the show, he gave consistently fantastic performances that made his character one of the most developed and most watchable of the entire Law & Order franchise. Not only did he quickly become my favorite L&O character ever (he managed to dethrone Linus Roache, which is no easy feat), but Steel put a smile on my face a few times, because he gave me a glimpse into how my future would have gone. Had I become a prosecutor like I once intended, I've no doubt that I would have become James Steel...only less awesome and not quite as good-looking.
If there's any doubt that he's already missed on LOUK, it should be erased by the fact that for months, ever since his last episode aired, one if not several of the top search engine results for my site always has to do with his departure. Every single day. The fans still miss him and love his character. For my part, I'm lucky enough to consider Ben a friend of mine, so at least I get to chat with him now and then. I'm sure he's going to read this, so I'll just add: happy birthday, Ben, and take a moment to realize how amazing you are - at least, a lot of us certainly think you're fantastic!
You can read my sendoff for Ben and his LOUK costar Bill Paterson here.
It's also that special day for Nikita's leading man, Shane West. Of all the things that worked for the CW's reimagining of the action franchise, the first and foremost that sticks out in my mind is what Shane West did with the character of Michael. His less enigmatic take on the loyal soldier was perfect for the differing approach of the new series. As a La Femme Nikita fan, I think Roy Dupuis did an admirable job with Michael, but I never quite got into the character's head - and therefore really behind the character - until West took over. His Michael was someone I wanted to figure out, and honestly rooted for. In fact, when I was on the fence about the show entirely, it was West that kept me coming back for more.
I quickly realized that's a particular talent of his - if you have a chance to watch his earlier work in shows like ER or Once & Again, or even movies like What We Do Is Secret or The Echelon Conspiracy, he busts character molds and expectations consistently. As someone who rankles at paint-by-numbers plots and characters, this earned him a gold star in my book. I was able to interview Shane earlier this year, and I found him to be just as smart and sharply funny as his Nikita character; he wasn't afraid to talk openly with me, including explaining to me a plot point in Echelon that I missed the first time around. He's self-confident, smart, and never boring on or off-screen.
You can read my People Who Are Awesome column devoted to Shane West here, as well as my interview with him.
Happy birthday to both these great actors - may it be as fantastic as you both deserve.