Happy 70th Birthday To Queen Of Soul Aretha Franklin!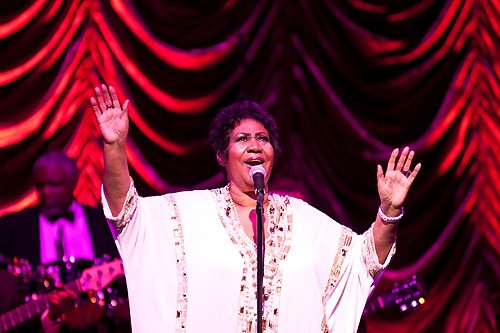 Give a little "Respect" to Queen of Soul Aretha Franklin on Sunday - the veteran songstress turns 70.

Starting out as a jazz singer in the early 1960s, Franklin found fame in the latter half of the decade and went on to achieve legendary status with the incredible power of her vocals and her nailed-on classics such as "Think" and "I Say A Little Prayer".

After a decline in fortunes in the 1970s, Franklin was catapulted back into the public eye with her memorable, scene-stealing performance in 1980 musical comedy movie The Blues Brothers, and her status as a showbiz icon was sealed.

Here are 10 fascinating facts about the singing sensation from Memphis, Tennessee to say Happy Birthday, Aretha!

- She has a pathological fear of flying and once had to pull out of the Broadway musical "Sing, Mahalia, Sing" as she couldn't face flying to New York.

- Her vocal talents are so impressive her voice was declared a precious natural resource by the Michigan Legislature in 1986.

- Her impressive list of industry honors includes 18 Grammy Awards and three entries in the Grammy Hall of Fame. She was inducted into the Rock and Roll Hall of Fame in 1987, becoming the first female singer to receive the accolade.

- Editors at Rolling Stone magazine ranked her Number One in their list of the 100 Greatest Singers of All Time. She was also named the ninth greatest artist of all time.

- Franklin has four sons and has been married twice - including a turbulent eight-year union with her manager Ted White, who she divorced in 1969.

- A committed professional, Franklin was not used to lip-synching and had to film countless takes for her performance of "Think" in The Blues Brothers. The final scene was edited together to preserve the illusion she was singing live.

- She is close friends with Cissy Houston and was godmother to Houston's daughter Whitney Houston.

- Her impressive chart record boasts 20 Number Ones on the Billboard R&B Singles rundown and 45 top 40 hits on the Billboard Hot 100, including two Number Ones.

- She is a registered Democrat and an outspoken supporter of U.S. President Barack Obama.

- Franklin was awarded the Presidential Medal of Freedom in 2005 - by Republican President George W. Bush.