Happy 70th Birthday, Muhammad Ali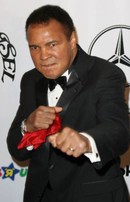 'The Greatest' boxer the world has ever seen is 70 today - happy birthday Muhammad Ali.

Born Cassius Marcellus Clay Jr in 1942, he took up boxing at the age of 12 and winning the Olympic gold in Rome in 1960, before he won the world heavyweight title.

He was stripped of his heavyweight crown in 1967 for refusing to fight in the Vietnam war, but went on to regain his title and become the first and only three-time lineal World Heavyweight Champion.

The sports legend, who changed his name when he converted to Islam, will be forever known for his notorious bouts with Joe Frazier and George Foreman - battles thought to be the some of the best fights in boxing history.

He has spent his retirement fighting for social causes and raising awareness of Parkinson's Disease, which he was diagnosed with in 1984.

So to celebrate 70 years of the man whose fighting style was to "float like a butterfly, sting like a bee," WENN has come up with 10 fascinating facts about The Greatest.

 - His boxing record totals 61 fights, 56 of which he won.
 - Ali was named "Fighter of the Year" by Ring Magazine more times than any other boxer.
 - His daughter Laila Ali also became a boxer in 1999.
 - He recorded an album for Epic Records in 1964 titled I Am The Greatest.
 - He has converted to a different Muslim sect three times; the Nation of Islam, Sunni Islam and later Sufism.
 - Ali was the first man to knock down Sonny Liston, George Foreman, and Chuck Wepner.
 - He has portrayed himself in four different movies.
 - Ali has appeared on the cover of Sports Illustrated on 37 different occasions, second only to Michael Jordan.
 - Ali's maternal great-grandfather was Abe Grady from Ireland.
 - He will have five birthdays to celebrate his 70th year.