Happy 60th Birthday, Sting!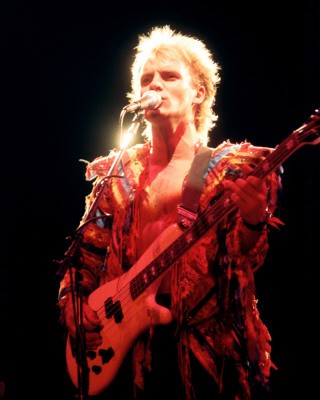 Sirens are going off for Sting today as the rocker celebrates turning 60.

Growing up in Newcastle upon Tyne, England, the singer brought us his raspy tones after forming New Wave band The Police in the 1970s.

Going on to win 16 Grammy Awards, an Oscar nomination and entries into both the Rock and Roll Hall of Fame and the Songwriters Hall of Fame, Sting brought us classics including "Roxanne," "Walking on the Moon" and "Every Breath You Take," before moving on to a successful solo career.

To mark his achievements WENN has compiled 10 fascinating facts about the rocker to mark his landmark age. Happy birthday, Sting!

- His real name is Gordon Sumner. He gained the nickname Sting because he would wear yellow and black jumpers which made him look like a bee.

- Before finding fame as an international rock star, Sting was a certified school teacher, and also tried out jobs including a bus conductor, a tax officer and construction laborer.

- The singer has tried his hand at acting on several occasions, including playing a gentleman in 1988's Julia and Julia, as Nick Moran's onscreen father in 1998's Lock, Stock and Two Smoking Barrels, and as himself in 2009's Bruno.

- Sting has six children - two with his first wife, actress Frances Tomelty, and four with his current wife Trudie Styler, who he married in 1992.

- Sting and Styler are avid followers of tantric sex and yoga.

- Both of Sting's parents died of cancer in 1987, but he refused to attend either funeral because he thought the media fuss surrounding his appearance would be "disrespectful" to his mother and father.

- He has a large property portfolio, including homes in the Caribbean, two properties in London, an apartment in New York, a beach house in Malibu, California, a large country estate in Wiltshire, England and a home in Tuscany, Italy.

- He is a keen chess player.

- Sting and Styler introduced Madonna to her second husband Guy Ritchie and the singer is the godfather to their son Rocco.

- The Police frontman is a strong activist and philanthropist - he is heavily involved with Amnesty International and has set up the Rainforest Foundation Fund to help raise cash to save rainforests in Brazil.