Happy 50th Birthday, Axl Rose!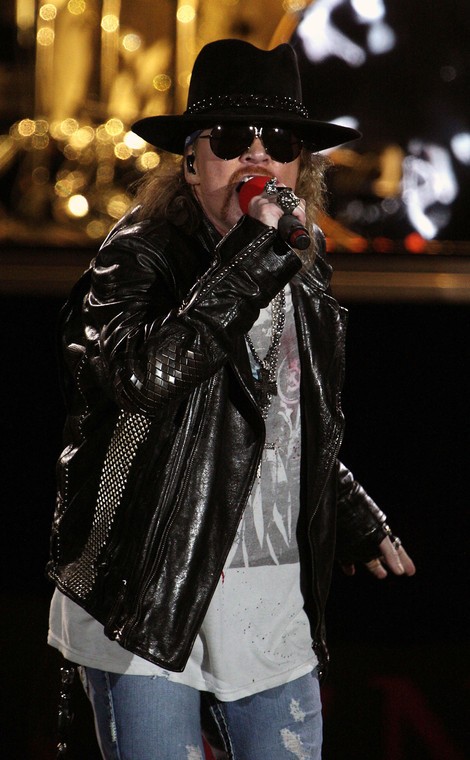 After spending nearly 30 years in the rock spotlight, hell-raising Guns N' Roses frontman Axl Rose turns 50 on Monday.
 
The singer grew up in Lafayette, Indiana before moving to Los Angeles in 1982, when he began plotting his path to superstardom.
 
Just a year later, Rose formed the legendary band with Tracii Guns, merging his group Hollywood Rose with his friend's L.A. Guns, and he has been regularly grabbing headlines ever since.
 
From his tempestuous love life to his famous temper and rumors of rampant professional perfectionism, Rose's time in the spotlight has been far from quiet, and even as he reaches the age of 50, it is doubtful the wild man of rock will be settling down with a pipe and slippers any time soon.
 
To celebrate Axl's milestone birthday we present 10 fascinating fact about the rock star we all love to hate. Happy birthday Mr. Rose - keep on rocking!
 
- Axl was born William Bruce Rose, Jr., but his last name was changed to Bailey after his mother re-married. He legally changed his name to W. Axl Rose in 1986.
 
- He acquired the nickname while singing in a band called Axl.
 
- After moving to Los Angeles, the rocker worked as night manager of the Tower Records store on Sunset Boulevard.
 
- The first release by Guns N' Roses wasn't the hugely popular "Appetite for Destruction," it was actually a four-song EP called "Live ?!*@ Like a Suicide," which hit shelves in 1986. The songs were later re-released on the band's 1988 album "G N' R Lies."
 
- Axl Rose is currently the only remaining original member of Guns N' Roses left in the band.
 
- The singer made a brief foray into acting with a cameo appearance in Clint Eastwood's 1988 Dirty Harry movie "The Dead Pool." Rose played a musician attending a funeral.
 
- Rose withdrew from the spotlight after the original line-up of G N' R collapsed in 1997 and he was considered a music industry recluse by the end of the 1990s. He resurfaced with the band in 2001.
 
- The rocker kept fans waiting more than a decade for the band's last album, "Chinese Democracy," which was eventually released in 2008, 15 years after 1993's "The Spaghetti Incident?."
 
- Rose was married to Erin Everly, daughter of Everly Brothers singer Don Everly, and he wrote hit track song "Sweet Child o' Mine" for her. They divorced after less than a year of marriage.
 
- The star also dated supermodel Stephanie Seymour. They became engaged after two years, but separated just three weeks after the proposal.