Happy 30th Birthday, Macaulay Culkin!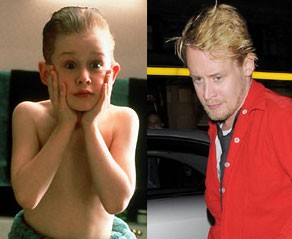 Here's something that will make you feel old - "Home Alone's" mischievous Kevin Mccallister is 30!
 
That's right, the world's first $1 million child star, Macaulay Culkin, hits the big 3-0 today.
 
It seems like yesterday since the beloved blond boy wonder was creating mayhem in the first two "Home Alones," and fronting films like "Richie Rich" and "Getting Even with Dad" - but, no, sorry 80s kids; "Home Alone" hit the big screen 20 years ago!
 
He might have retired at 14, back in 1995, but Mack's still one of the most iconic movie figures of the last century - and we can't wait for him to make his comeback.
 
In honor of Macaulay Culkin's 30th, here's 10 things you might not have known about the "Home Alone" kid:
 
 - he made his first stage appearance on Broadway at the age of four.
 
 - he also appeared in the New York City Ballet's "The Nutcracker" when he was five.
 
 - Culkin studied at the prestigious School of American Ballet.
 
 - he was the first actor "Home Alone" director Chris Columbus saw as he was casting for his hit film, but the filmmaker reportedly checked out another 200 potential child stars before realising Culkin was his Kevin McCallister.
 
 - the first "Home Alone" movie grossed more than $285 million in the U.S. alone.
 
 - he married actress Rachel Miner in 1998. The union lasted two years. Culkin has been dating actress Mila Kunis since 2002.
 
 - he is godfather to Michael Jackson's son Prince Michael and daughter Paris.
 
 - he became the first child actor to ever receive $1 million dollars for one film - 1991's "My Girl."
 
 - his role in "Born on the Fourth of July" was cut by director Oliver Stone.
 
 - his aunt is actress Bonnie Bedelia.
See more photos of Macauly here!