'Hannah Montana' Star Mitchel Musso Talks About Being A Rockstar

Starpulse had a chance to catch up with 17-year-old
Hannah Montana
star
Mitchel Musso
this week to chat about his self titled first album that recently dropped, the cool fans that he has, and his summer tour that kicks off July 1.
Starpulse: You just recently released your first album, what's your favorite song on it?
"Us Against the World," It's a duet with Katelyn Tarver. She's got the most phenomenal voice that you'll ever hear out of a girl. It's got a great message, kind of self-explanatory but it's about this relationship where they feel like everyone is against them dating - but it's worth it because they love each other. That was the one that I was hoping would really break me off, so I could do my own thing.
What is the feel/inspiration of your album?
When we were creating the sound for this album I didn't want to be stuck in one genre, so the sound for the album is rock/dance/electro/hip hop. It's all of that combined.
We recorded 48 songs in 2 months and had to choose 12 for the album. It was difficult to just pick 12 out of 48 songs you put your heart into. I had phenomenal people working with me and it broke out very well.
It seems like you want to focus more on your music than acting?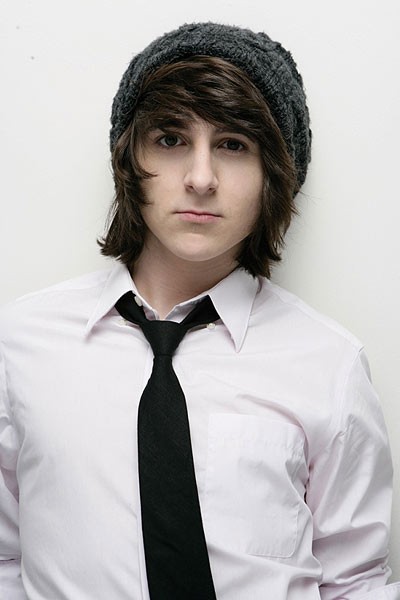 People don't understand what music really is. I've been a musician since I was 6 years old. I got my first piano, was playing recitals at 8, 10 I picked up a guitar, 12 I picked up my first Pearl Master drum set. I was an artist before I was an "artist."
When I'm an actor I have a set, and only the cast and the crew are allowed in the set. No one is allowed in here except for the workers, and then I go home. Work-home-work-home, that's being an actor. Being a rockstar? I get to travel the world, meet all the fans in person, party with my fans every night, and people who appreciate the art. When you are on the stage and they are all singing the words back to you, you realize why you are touring. That's why I do it.
Do you plan on collaborating with your brother more? The song "Shout It" off of your album was done with him.
We're actually, I'm excited about this, going to be on tour together this summer. It will be settings like House of Blues venues. I really wanted to have more of an intimate setting, just so I can see everybody and relate to everybody. I like it when I can sing half of a verse and throw the mike in some kids face and they sing it right back to me. More interaction with everybody, I think makes it more exciting. Also, it's the first tour and we don't want to do anything too crazy and I want to hear everybody's reactions. I'm sure he'll be singing with me every night.
He's definitely my icon, in a sense because he's my brother but I really think he's the most talented artist that I know. I hope when we are on tour we can fiddle around and make music.
Is connecting with your fans a big thing for you?
Yes, I blog 24/7 and I've got my Twitter right on my phone - every two minutes. They want to feel like they're there and I respect that completely. The fans are, and I don't tell them this enough, they are the reason that this is all possible. There would be no "Hannah Montana," no celebrities, no Hollywood. People forget that and it's so ridiculous. They are the ones that make it go, there would be no entertainment industry at all if it wasn't for them. I love them to death and I have the coolest fans in the world.
What's your biggest star moment thus far?
My first fan encounter, of me being a fan, was when
Eminem
and
Dr. Dre
came down to the set ("Hannah Montana") with their daughters. It was the craziest moment of my life for sure. It was so funny because I have two huge pictures of Eminem in my room and Hailie walks in she said, "Why is my dad on your wall?" Then she has the cast of "Hannah Montana" on the background of her phone, so I was like, "Why are we on the background of your phone?"
We read that you still have a curfew?
I really don't, my parents are super chill. I run my own stuff and actually just bought my first house with my older brother out in LA. My dad was in real estate, so I kind of just let him take care of it. My mom is a house designer and she completely redid the entire house - I have yet to see it.
Most Embarrassing moment?
I don't really get embarrassed, I'm terrible with this question
Favorite Food?
Sushi, New York Pizza
Dream Date?
A regular girl
Favorite Sport?
Basketball
Favorite Movie?
Boondock Saints
Magazine Cover you want to be on?
Rolling Stone, GQ would also be pretty tight
"Acting, I'm playing characters. Music, I'm playing Mitchel. It's not easier- but I'm writing my own script as I go."
Story by
Kristen Schoels
Starpulse contributing writer
Click here to follow @Starpulse on Twitter!