'Hannah Montana' Star Mitchel Musso Arrested For DUI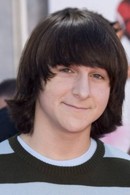 Hannah Montana actor Mitchel Musso was arrested for drunk driving on Sunday, according to a report.

The actor, who played Oliver Oken on the hit Disney program, was taken into custody in the early hours on Sunday morning after failing to slow down for police who were directing traffic in Burbank, California.

According to TMZ.com, cops detected a "strong odor of alcohol" permeating from the star's car.

He later failed a breathalyzer test and was subsequently booked on suspicion of DUI.

The bail was set at $5,000.