Hanging With Mario Lopez Of 'Extra'

Mario Lopez
, most commonly known as A.C. Slater from "
Saved by the Bell
," is anything but a one-trick pony. In fact, Lopez barely has time for himself these days now that he's the solo host of "Extra," the popular television entertainment news show.
But that's not all. Lopez was a contestant on "
Dancing With The Stars
" (where he was the runner-up), he has hosted MTV's "
America's Best Dance Crew
" for three seasons, and he appears on the F/X drama "
Nip/Tuck
." If that wasn't enough, Lopez has written a bestselling fitness book, "Mario Lopez's Knockout Fitness," and is working on a children's book about his life growing up.
And you thought you were busy.
"Most of my attention is focused on my work, and I'm blessed to be so busy in a lot of areas," Lopez said over the phone last Friday.
"Extra" takes up most of his time, but that's fine by him. Lopez understands that it's a unique opportunity, and he's enjoying the experience.
"I'm really having a great time here at 'Extra.' I recognize that I'm the solo host of this entertainment news show and [am] the only one that's able to do that, so I love and get to meet such cool people and travel," Lopez said. "I'm allowed to do other things where I still get to act and write books and produce shows and projects, so I'm very grateful and love that."
Lopez spent a lot of time talking about his upcoming children's book, which he is also trying to make into an animated television show. The book will focus on the brother/sister bond that encourages kids to use their imaginations. Regarding the potential cartoon, Lopez said that he wants to assemble an "all-star Latino cast," and he has been in contact with
Eva Longoria
,
Gloria Estefan
, and
George Lopez
about the project.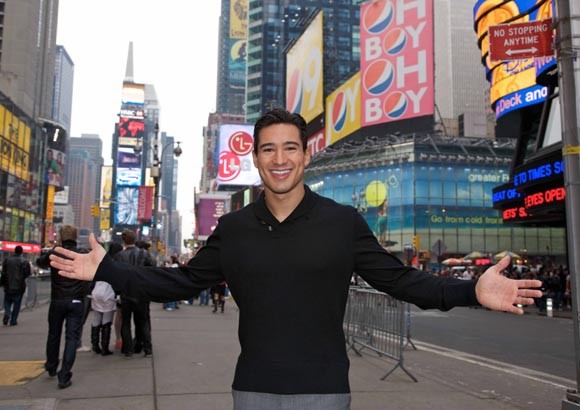 After bringing up the brother/sister bond, Lopez was asked about his relationship with Longoria that is often a popular subject in gossip magazines.
"We laugh about it because she's a dear friend of mine, and I look at her as a sister. We realize that it comes with the territory. People are always going to talk, so it's just sort of like that tabloid nation that we live in," Lopez explained.
Squashing one rumor and moving on to another one, Lopez acknowledged Jimmy Fallon's mission to have every member of "
Saved By The Bell
" come on his new late-night talk show for the 20-year reunion.
"I was supposed to do a show, but due to schedules I haven't been able to get back there yet, but I hope to be a guest on his show soon," Lopez said. "I'm all for a reunion if they can get everybody together. I just know that schedules are tough, but it's a big deal that we're celebrating 20 years; the anniversary is still in the air, so I think that's kind of cool."
Other than the 50 things Lopez has going on right now, what else is going on in his life?
"Maybe my social life could use a little more attention," Lopez admitted. Later in the interview, he mentioned a mystery woman when asked what qualities he looks for in a woman: "I just met her, she's very sweet. I was just talking to her the other night and she's very pretty. I don't know if that qualifies as a crush, but I really liked her." Who could it be?!
We'll let the speculation machine run rampant, but it sounds like Lopez's social and work lives are doing just fine these days.
Story by
Phil McRae
Starpulse contributing writer