Han & Chewie Reunited At 'Empire Strikes Back' Screening; Spike TV To Air 'Star Wars' Marathon (Video)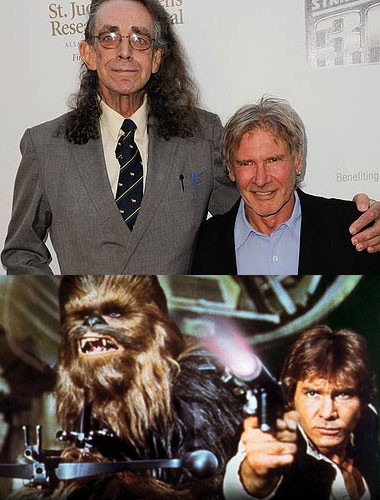 Last night Lucasfilm held a special one-night-only charity screening of "The Empire Strikes Back" to celebrate the film's 30th Anniversary. The charity showing benefited the St. Jude Children's Research Hospital and a handful of the film's stars, including Harrison Ford, Billy Dee Williams and Peter Mayhew were in attendance. Also at the event was Ewan McGregor, star of the three "Star Wars" prequel films.

Collider.com's Steve Weintraub reported that the film wasn't the original version, but a digitalized copy of the 1997 Special Edition "without the Luke scream."

"If you're a Star Wars fan... you know what I'm talking about."

This Saturday, May 22, Spike TV will celebrate the 30th Anniversary of Empire with a "Star Wars" marathon, beginning with "Star Wars Episode IV: A New Hope" at 1pm, "Star Wars Episode V: The Empire Strikes Back" at 4pm, and "Star Wars Episode VI: Return Of The Jedi" at 7pm.