Halle Berry Wears Daring Dress On 'Tonight Show'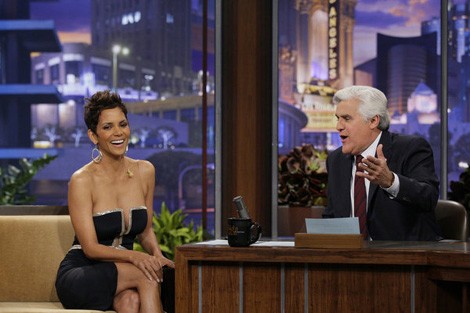 Halle Berry might have appeared on The Tonight Show with Jay Leno to talk about her new film The Call or her dazzling Oscar dress, but instead everyone's talking about the daring gown she wore while chatting with the talk show host.
Berry graced the stage with a little black dress with an extremely low neckline that showed off plenty of cleavage. If that wasn't enough, there was a slit in the middle to show even more of her breasts. The hem was cut rather high above her knee, as well.
Speaking of dresses, Berry shared the story of her Bond Girl-inspired gown at the Oscars - and why she needed a back-up. "You know, I almost didn't wear that [Versace] dress ... I had a conversation with Donatella Versace. I told her that I wanted to go to the Oscars as a Bond girl. Like, if a Bond girl would go in 2013. So she came up with what her idea of it was, but you know she's out in the country so she put it in a suitcase and shipped it here. I got it a day before the Oscars ... The day before, I had some other dress I was going to wear, which was beautiful, but I pulled this out and it was like [makes lightning noise]. It fit perfectly and I just thought 'wow.'"
When Leno joked about all the poses stars have for the red carpet, Berry pointed out she could do very few. "This year I couldn't lift my arms up... If you notice... my hands were stuck down... It's just the way it (the dress) was, I couldn't do it."